Best places to visit in Hungary. Nuzzled in the heart of Europe rests the land of picturesque scenery, elaborate Romanesque architecture, breathtaking folk arts mastery, and rejuvenating thermal spas dotted countrywide – Hungary. It's an all-in-one wanderlust adventure to one of Europe's most European nations, where everything is genuine and original. If you're considering a holiday to Roman's breadbasket, then you must visit Hungary.
There's a lot to tell you about this beautiful country, but firstly, let's put light on this capital city Budapest. This place is quite famous for its therapeutic thermal waters used for curative purposes since time immemorial. Other than that, you got classical music orchestrating around the nostalgic Hungarian art Nouveau streets, mural walls and structures, baroque buildings, and of course – street food. There's a lot to talk about Hungary's celebrated metropolis. Right now, let's focus on the country itself. 
 Hungary Highlights
Hungary's not hungry for food or water but for the time-honored values and traditions it carries. It's one of the most reserved nations of Europe when it comes to authenticity. Whether it's the people, places, cultures, architecture, or conventional routines of the locals.
Hungary is a complete chocolate-box of every unimaginable exotic delicacy with all the forms, flavors, shapes, and sizes. To an extent, the historical structural establishments feature Greek, Roman, and Turkish architecture.
Apart from concrete foundations, the love of traditional food here is surreal. You'll love stew Goulash sided with a fluffy Lángos flatbread – a deliciously deadly combination to trigger your taste buds and kill your hunger. It's just a delectable experience of Hungary, but the real magic begins once you get inside its indigenous guts. You start to acknowledge that this Europe's core nation is a treasure box full of surprises.
Hungary is wreathed with bountiful festivities to rejoice once you lay foot on the grounds. The jingle bells celebrations start with a countdown revelry known as 'Advent Wreaths.' This single merriment shows how jollity-hearted the Hungarians are. Other famous festivals include Luca Day, Mikulás, Love Spells, Holiday Feast, hilarious Poppy Seed Desserts, and the thriving Holiday Markets.
Hungary is well-known for bits and pieces for you to puzzle in its true 'full picture potential. Its handcrafted Porcelain precast crockery has an emblematic Hungarian worth, Bernard Neumann's time-honored Ajka Crystal; makers of mesmerizing glass art artifacts; mostly glassware, meticulously painted eggs, traditional dolls and shirts, tablecloths, and whatnot. Don't forget to open the Hungarian Secret Box. If, by any chance, you're able to open it, it says "congratulations!" "You're now officially a Hungarian citizen, my friend."
Popular Hungary Destinations
Hungary's rich prehistoric times have kept it secrets well-preserved. It's a fascinating country with countless cities and township you must visit. There's a lot of architectural marvels, thermal bath sprouts, vintage cafés, highborn antediluvian buildings, and many destinations and tourist attractions. Therefore, having a Hungary travel guide is mandatory if you're looking for a full-fledged Hungary experience. We'll discuss 'destinations' and 'tourist attractions' separately, so scroll down to know more about famous Hungarian landmarks. Right now, let's start with its capital city Budapest.
Budapest
The city of Budapest spans on both sides of the Daube River as it flows calmly, bisecting the beautiful capital. It offers an all-inclusive traveling adventure if you're visiting Hungary for a day or two.  The two lands of the city is bridged together with a 19-century Chain Bridge. There are many luxury hotels and manors available for rent for a cozy accommodation.
You must visit the haunting House of Terror museum where you'll find the 20th-century fascists and communist regime artifacts. As the name suggests, little memoir of detained, interrogated, and murdered victims are put on display here. Don't forget to take up the funicular cable ride that ascends to Budapest's uphill Castle Hill to Buda's Old Town. Budapest known for its classical music, art Nouveau designs, lush gardens and estates, folk culture, Jewish heritage, and of course, free stuff offered by the locals.
Budapest famous Tourist Attractions: Buda Castle, Castle Hill, Széchenyi Thermal Bath, Fisherman's Bastion, Heroes' Square, St. Stephen's Basilica, Hungarian Parliament Building, Széchenyi Chain Bridge, Margaret Island.
 Things to do in Budapest:
Jump in the Széchenyi Baths.
Take a Boat for a Danube River Cruise.
Walk profoundly over the Chain Bridge.
Eat at the Great Market Hall.
Wander the Buda Castle Corridors.
Go for an overnight Cave camping below Budapest.
Slink Around the Labyrinth of Buda Castle.
Enjoy pastries and bakery delicacies at Ruszwurm.
Take a Segway detour of Budapest.
Click a few candid snaps at Fisherman's Bastion.
Budapest Fun Facts:
Rubik's cube, home to Europe's largest synagogue, unknown Hungarian language origins, world's thermal bath capital, oldest underground subway line, 3-city grouping established Budapest.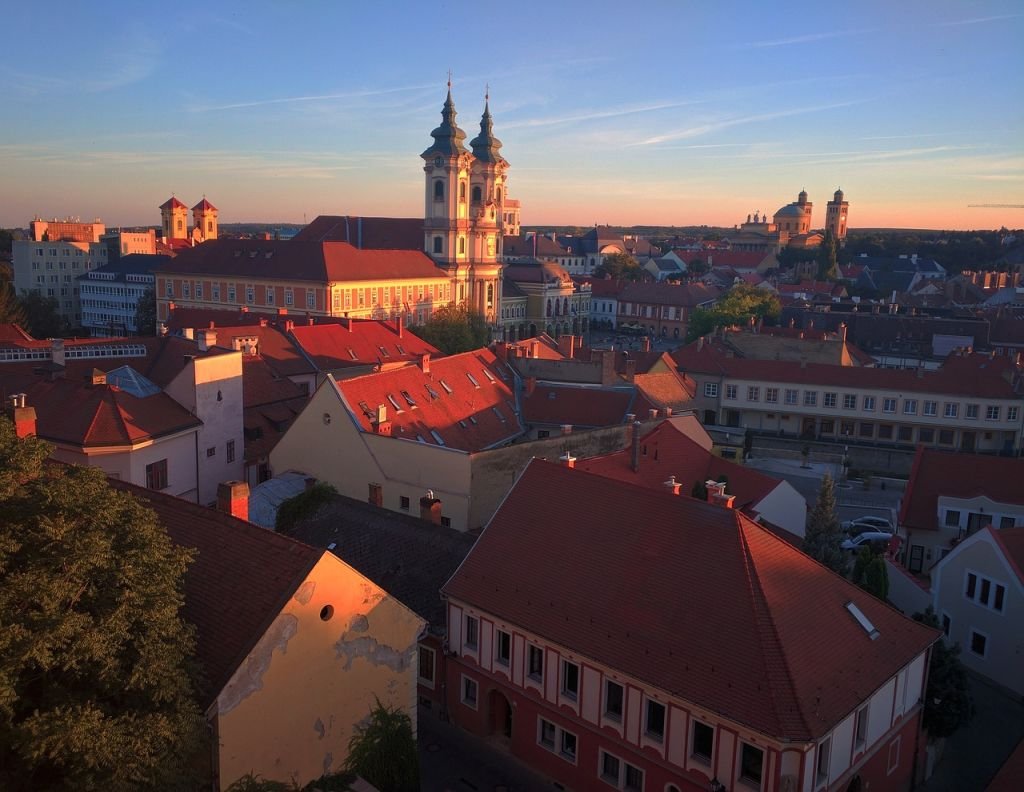 Eger
An elegant municipal town in northern Hungary dotted with baroque buildings and pretty thoroughfares, particularly the tree-candled Kossuth Lajos Street embracing the time-honored County Hall barred with an iron-casted gate. Eger is the place where you'll find plenty of museums and native presentations of Turkish governance in the past. Hungary Travel is incomplete without this charming small city. It has famous bars and restaurants, rejuvenating Turkish baths, a colossal city cathedral, and serene hiking trails for a more panoramic view of the city of Eger.
Eger Tourist Attractions: Bukki National Park, Castle of Eger, St. John Apostle Cathedral Basilica, Eger Minaret, Beatles Museum dedicated to the British Pop group of the same name, Dobó István Square.
Things to do in Eger:
Eat at Dobo Square.
Pay a visit to Eger Archbishop's Palace.
Swim at the Mineral Bath Swimming Pool Park.
Wander in the Eger Castle Premises.
Embrace Middle Eastern roots in the Turkish Pasha Tent.
Eger Fun Facts:
The best countrywide thermal baths, Cultural Heritage of 16th Century Ottoman Empire, Classic European homes, Romanesque architecture, ancient tunnel/ cave systems.
Győr
An hour-away train journey from Budapest and Vienna (Austria's capital), Gyor shares borders with Austria and Slovakia in the northwest of Hungary. It serves as a great day-travel detour for tourists. The significance of this small city is the convergence of the three rivers where you'll enjoy sweeping scenic views.
Gyor Tourist Attractions: Basilica of Gyor, Xantus János Állatkert Zoo, Széchenyi Square, Püspökvár-Toronykilátó Castle, Romer Floris Museum, Carmelite church in Győr.
Things to do in Gyor:
Eat Hungarian cuisine.
Walk around ancient streets.
View Austria from the Borders.
Visit the Audi's automobile factory 'Four Circles.'
Gyor Fun Facts:
Known as the city of Rivers, Prehistoric 5th century BCE settlement, traditional restaurants, serene shopping squares.
Szeged
Nicknamed as 'The City of Sunshine,' Szeged runs along the Tisza River brooks. It's the third largest city of Hungary known for its pleasant weather and the magnificent Votive Church of Szeged cathedral. The city rests on the Great Hungarian Plain, so you can expect stretches of beautiful buildings and highborn housing societies settled along eloquent streets. Categorically, this place should be on your Hungary Travel bucket list. Here you can enjoy exquisite artistry, European alfresco cafés, classical restaurants, year-long festivals, and so much more. Do not forget to pay a visit to one of Hungary's most distinguished academic institute – The University of Szeged.
Szeged Tourist Attractions: Votive Church of Szeged, Szeged Zoo, Dom Square, Botanical Garden of Szeged, Szeged Synagogue, Anna Spring, Sunshine Aquapolis Aqua Park, Szeged Open-air Festival, Móra Ferenc Museum.
 Things to do in Szeged:
Visit to Zoo Parks with Kids.
Enjoy water activities with family.
Hop up the Pontoon Boat.
Contemplate at the National Theatre of Szeged.
Buy gifts and Souvenirs from shops and city squares.
Siófok
An ideal holiday destination for beach goers and enjoy lively nightlife at the settlement of Siófok. This small town lies on the southern bank of Lake Balaton. It's not an ideal overnight travel hub, but sure is worth a full-day visit with plenty of Hungarian music and activities to enjoy. The two major undertakings you can relish at Siofok is its golden beaches and enthusiastic watersports.
Siofok Tourist Attractions: Siofok Water Tower, Bella Stables and Animal Park, The Upside Down House, Siófok Óriáskerék, Museum of Minerals, Siófok Szabadstrand garden beach, Millennium Park.
Things to do in Siofok:
Stroll in the Millennium Park.
Check out amazing animals at the Bella Animal Park.
Sunset viewing at the Bebo Aquapark.
Fall from the sky via Skydive Balaton.
Fall in love with the Benevolent Angel of Peace landmark.
See artifacts at Kalman Imre Memorial House.
Enjoy swimming at Main Beach Siofok.
Play a few shots at the Minigolf Park.

Pecs
Located in the southwest of the country, Pecs signifies rich history with its foundations as early as 2000 years ago by the Romans. Here you'll find plenty to quench your wanderlust thirst with. There's a beautiful 11th-century cathedral, a God 'virtuous' 16th-century old mosque of Pasha Qasim, and a few Hungarian arts & culture museums. Since it's an institutional town where local students come to study, it brings a high-spirited vibe to it.
Pecs Tourist Attractions: Pecs Cathedral, Forested Mountains at Mecsek, Pecs TV Tower, Mecsextrém Park, Széchenyi square, visit the Mosque of Pasha Qasim, Victor Vasarely Museum.
Things to do in Pecs:
Enjoy time at the Zsolnay Cultural Quarter.
Walk through neo-Romanesque quad-towered St. Peter's Basilica.
Contemplate ancient artistry at the Csontvary Museum.
Feed yourself at Bloff Bisztro with amazing appetizers.
Have a sweet late night dinner with your family at Zsolnay Restaurant.
Play Hide & Seek at the Siklos Castle.
Pecs Fun Facts: Pécs houses one of the oldest Early Christian Mausoleum, Pecs is filled with landmarks, monuments, and statues, Pecs is a haven for tranquility lovers.

Debrecen
The second largest city and the former capital of Hungary that lies in the mainland's of the Great Hungarian Plain. It has numerous religious sights for contemplation about God and fascinating museum exhibitions to gain historical accounts about mankind. If you love to gawk on the jaw-dropping interiors, entering the gold-casted Great Church "The Calvinist Rome" should be your top priority. It's a symbolic structure of Debrecen with other subordinate structure of the imposing St. Anne Cathedral. It's also an institutional community with plenty of students residing at local hostels, so there's plenty of dine-in cafes and expedient "study ambient" restaurants to eat at.
Things to do in Debrecen
Paradise for history and art lovers.
Visit Debrecen amusements parks every day.
Stroll around baroque buildings
Read a book at the Great Church.
Cycling at the Debrecen "Big Forest" Nature.
Enjoy the best Hungarian cuisine at city squares.
Debrecen Fun Facts: One of the most influential Hungarian cities, famous for horses and livestock, nicknamed as "the Calvinist Rome," hub of artifacts, ancient weapons, and local crafts.

Miskolc
Nestled by the beautiful Bukk Mountains, Miskolc is famous for its soothing scenery and local delicacies. Its best during the winter season as you can atop the hilly areas to enjoy skiing. The borough's hub is a sweet surprise to visit and amble around the streets that has ample medieval attractions. Mostly visitors come here to take a soulful dive in the royal cave baths near Tapolca. The thermal waters here are ideal for curing allergies and enjoy a calming dip in warm waters.
Miskolc Tourist Attractions: Bükk Mountains, Bükk National Park, Miskolc Zoo, Miskolctapolca Cave Bath, Diósgyőr Castle, Lillafüred State Forest Railway, Anna Cave.
Things to do in Miskolc:
Look at the Lillafüred Resort and fall in love in its elegant quiescent.
Let your kids pluck flowers from Terraced Gardens in Lillafüred.
Board a boat and start fishing at Hámori Lake.
Go to Pannon Sea Museum with the kids.
Walk and talk at the Greek Orthodox Church.
Snap photos of the Wooden Church straight out of folklore.
Gather at the Meat-Jelly festival.
Conclusion
We hope you enjoyed our Best places to visit in Hungary post and that you learned thing or two. Hungary ha many things to offer for tourists in Europe. We will write more about this wonderful country soon, so stay tuned! Safe travels!