Visit Thailand, a Southeast Asian country with diverse geography, rich culture, and history. It is in the top ten world tourist destination for decades and for a good reason. Tourists from around the world are coming to Thailand to enjoy the great hospitality of friendly people, spend time on a beautiful white sandy beach, explore jungles and mountains and visit many monumental temples and palaces.
Whether it is a bustling modern capital of Bangkok with its cityscape, a quiet ambiance of many temples (named 'Wat' in Thai) or busy tropical beaches with cafes, bars and entertainment, Thailand has something to offer to every type of visitor. Enjoying genuine Thai food from fine dining places or from street vendors will make your stay an enjoyable experience and you will be coming from more. We hope you will come and visit Thailand soon!
1. Quick facts
Official name: Kingdom of Thailand
Capital: Bangkok
Population: 69 million
Area: 513,115 sq km (198,115 sq miles)
Major language: Thai
Major religion: Buddhism
Life expectancy: 71 years (men), 79 years (women)
Currency: Baht
2. Where is it?
Thailand is located in Southeast Asia and it borders 4 countries: Burma, Cambodia, Malaysia, Lao People's Democratic Republic. Its diverse geography includes wast beaches and shorelines, many islands in the south and rain forests and mountains in the north.

3. Visa requirements
A tourist visa is given for a period of 30 or 60 days and it costs $30.
A list of countries that are exempt from visa requirements can be found here.
If you are traveling by yourself (not through the agency) here is what is needed to obtain a Thailand visa in the nearest consulate:
Passport or travel document with a validity not less than 6 months
Visa application form (filled out)
One(1) recent 4x6cm photograph of the applicant
Round-trip air ticket or e-ticket (paid in full)
Proof of financial means (20,000 baht per person/40,000 baht per family)
More info about visa requirements for Thailand.
4. Getting there
Getting to Thailand is the best via Bangkok Airport (BKK), but there are five more international airports: Chiang Mai (CNX), Hat Yai (HDY), Krabi (KBV), Phuket (HKT), and Ko Samui (USM), in case you want to start your visit in a different place than the capital.
Check flights and hotel offers for Thailand:
5. Where to stay in Thailand
Depending on where you want to go in Thailand, your options for accommodation vary from standard hotels or an AirBnB or cheaper accommodations, such as guest houses or bungalows.
Click here for more info about accommodation in Thailand.
It is up to you and your budget and personal preferences. For budget (and young) travelers, there is plenty of cheap accommodation to choose from in Thailand.
For the latest offers on hotels from our providers use the search form below:
6. Moving around
There are many transport options in Thailand, both within cities and for traveling intercity. For moving within a city, such as Bangkok, maybe the fastest (and funniest) way to reach from point A to point B would be a tuk-tuk, three-wheeled motorbike with two seats for passengers (although there are versions with more seats). This is also the cheapest option. Bangkok also offers Skytrain, which is also a very efficient way to travel in the city.
Traveling between locations can be done via one of many airports (if budget permits it), or via buses or trains. Travel agencies provide shuttle buses between locations and depending on budget, they can be very simple to luxury, air-conditioned ones.
Trains can be an interesting way of traveling throughout Thailand, but the railway network doesn't really cover the whole country, so it will need to be mixed with other means.
Reaching nearby islands is done by boats and ferries.
7. Food in Thailand
Thai food is world-famous and it needs little or no introduction to travelers. There is a no larger city in the world without a Thai restaurant or at least an Asian fusion-type eatery where Thai cuisine is featured. So, we might be repeating what you already know, but as far as having food in Thailand is concerned, we recommend trying food not only in regular or high-end restaurants but from street vendors and food stalls, especially ones with many local customers. This will guarantee you have genuine Thai food and at a great price, too.
Here are our recommendations: Tom Yum, shrimp (it can be also chicken or vegetarian version) soup with rich tastes and spicy; Tom Kha Kai soup with an incredible blend of spices and coconut, Gaeng Daeng, red curry, made with meat or vegetables, Pad Krapow Moo Saap, fried pork with basil, served with rice, of course, Gaeng Keow Wan Kai, green chicken curry, Yam Nua, spicy beef salad, which can be also a main dish, easily, Kai Med Ma Muang, cashew nuts chicken and many more.
From the sweet side of the Thai menu, we have Mango Sticky Rice, Sweet Sticky Rice, Banana Fritters, Coconut Ice-Cream, or Thai Donuts, to name just a few.
8. Safety
How safe is Thailand for tourists and to move around? Thailand is safe for tourists in general, but visitors are advised to be vigilant against pickpocketers and scammers, especially when moving around areas with fewer tourists. Special attention is to be paid when using public transport not to have private property or documents stolen.
9. Prices
Thailand is quite cheap for tourism, as food, accommodation, and transport prices are very low. Usually, for European and American tourists, the biggest expense is a flight ticket to get to Thailand.
Prices throughout Thailand can vary quite a bit, but Bangkok is still the most expensive in comparison with other places.
10. Weather
Weather in Thailand varies depending on the area, the north has more defined seasons and the south has two seasons – wet and dry.
Temperatures can go up to 35 C (85 F) and average at 28 C (82 F) in April, and can drop down to a maximum of 30 C (85 F) and average at 24 C (75 F) in December.
11. Best time to visit Thailand
Based on weather conditions, the best time to visit Thailand is between October and February. The hottest month is April when the rainy season starts as well, so weather can be hot and humid with frequent rain, which can really disrupt holidays, beach time, and moving around.
12. Money matters
All major credit and debit cards are accepted in large shops, hotels, and restaurants in Thailand. Smaller stores and cafes usually don't take cards, so you will have to carry some cash on you for this purpose.
You can exchange money in official exchange places and be careful about 'no commission' places which are actually offering very bad exchange rates. It would be best to withdraw money from the ATM and ask to be charged in local currency to avoid unfavorable exchange rates.
13. What to see in Thailand?
There are plenty of landmarks and attractions to see in Thailand, so we are going to list only the most popular ones for you. It is up to you to decide what to see in Thailand.
Phi Phi Islands. A group of islands between the island of Phuket and the west Strait of Malacca coast. A tropical paradise if there is one. The movie "The Beach" with Leonardo di Caprio was filmed there.
Grand Palace. Spectacular former royal residence and museum in Bangkok. An 18th-century building, this ornate royal palace complex is a must-see when in Bangkok. Features museum with guided tours.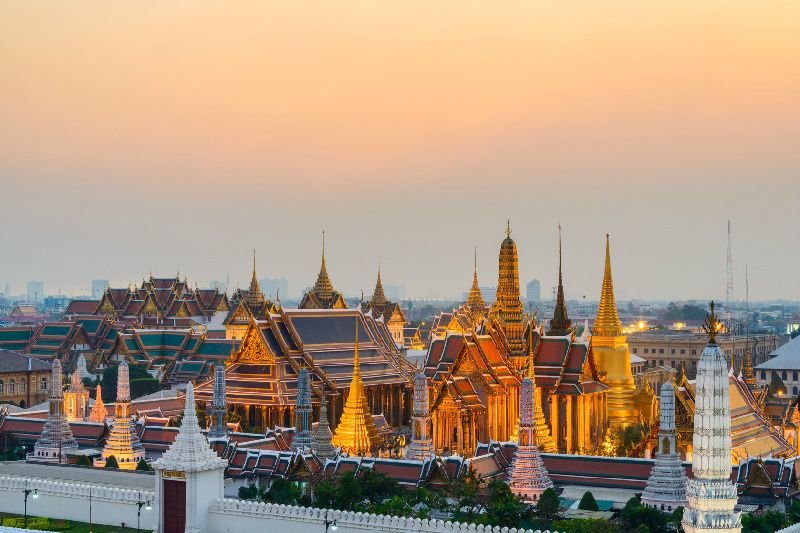 Patong. A beach resort town on the west coast of Phuket Island, with a white sand beach, lined with cafes, restaurants, and bars. Famous for nightlife and shopping.
Khaosan Road. Popularized by the novel "The Beach" and the namesake movie, this, 1 km long road in Bangkok is packed with shops, bars, guest houses, and other affordable accommodation for backpackers.
Ko Pha-ngan. An island in southeast Thailand, famous for its monthly Full Moon Party, attended by thousands of party-goers.
Wat Phra Kaew. Part of the Grand Palace complex, this sacred temple is a host of famous reclining emerald Buddha statues.
Phang Nga Bay. Part of the Phang Nga National park, this site is famous for cliff formations rising out of the emerald sea. Kayak tours and boat excursions, caves explorations, and diving.
Railay Beach. A large peninsula between the city of Krabi and Ao Nang, accessible only by boat and popular among rock climbing enthusiasts and divers.
Wat Arun. A Buddhist temple in Bangkok Yai district of Bangkok, on the west bank of the Chao Phraya River. Famous for the iconic, ornately tiled central spire.
Similan Islands. A group of islands in the Andaman Sea off the coast of Phuket. Part of National Park, Mu Ko Similan, popular for snorkeling and diving.
Ko Samet. A small island with white sandy beaches south of Thailand in Rayong province.
Wat Phra That Doi Suthep. Famous white elephant shrine, located 15 km from the city of Chiang Mai in north Thailand.
Ko Lipe. Small picturesque island with white sand beaches in the Andaman Sea near Malaysia's border. Offers diving, snorkeling, and boat tours.
Khao Yai National Park. A national park in central Thailand spread over an area of almost 2,000 sq. km. Forest and grassland area with waterfalls, ideal for hiking, biking, and wildlife viewing.
Wat Rong Khun. Contemporary Buddhist temple conceived as an art exhibit. Located in the Chiang Rai province, this temple attracts tourists for its intricate white decoration.
Khao Sok National Park. A nature reserve in southern Thailand (north of Phuket) with ancient jungle, waterfalls, limestone formations, and artificial Cheow Lan Lake.
Karon Beach. A 4 km long golden sand beach in Phuket. Lined up with resort hotels, popular tourist areas.
Ko Lan. A small island with sandy beaches and wooded hills in the background, off the coast of Pattaya.
Ko Lanta Yai. Island district with a national park, popular for scuba diving, part of Krabi province.
BTS Skytrain. The Bangkok Mass Transit System, also known as the BTS or the Skytrain. Great transport system connecting main points in Bangkok, including main landmarks and shopping malls.
Doi Inthanon Mountain and National Park. Mountain park with Thailand's highest peak, part of the Himalayan mountain range. Featuring temples, nature hiking trails, gardens, waterfalls, and panoramic viewpoints.
Yaowarat Road. Busy area in Bangkok's Chinatown, featuring temples, open markets, street-food venues, and a variety of shops.
Erawan National Park. Beautiful National park in West Thailand, with hiking trails and tiered waterfalls.
Damnoen Saduak Floating Market. Famous Bangkok's floating market features vendors in wooden boats selling fresh produce and souvenirs. Great for shopping for food and photos.
Safari World. Located in Bangkok, these are two parks in one: marine park and the Zoo, offering many attractions and live shows.
Jomtien Beach. Also referred to on the maps as Chom Tian, is a long (6 km) beach offering water sports and restaurants, bars, lounges. Located south of Pattaya City.
Ayutthaya Historical Park. Located north of Bangkok, this former Siamese capital, now in ruins, was built in the 14th century.
Golden Buddha. Officially named Phra Phuttha Maha Suwana Patimakon, is a gold statue weighing 5.5 tons, located in the temple of Wat Traimit, West Bangkok.
Sukhothai Historical Park. Remains of the 13th century built royal capital city of Sukhothai (meaning 'Dawn of happiness'), featuring palace and many temples.
Chaweng Beach. Located on the east coast of Ko Samui, this beach is popular for white sandy waterfront and nightlife events.
Wat Mahathat. Located north of Bangkok, this Buddhist temple features ruins, colorful shrines, and famous Buddha head sculptures encased in tree roots.
Phuket FantaSea. Cultural theme park with daily shows, animals, dining, and shopping.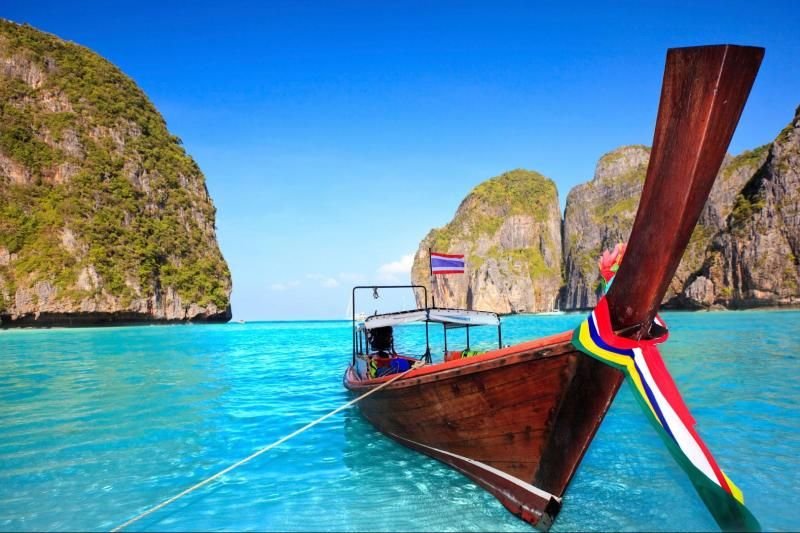 Asiatique The Riverfront. A large open-air mall in Bangkok, located on the former docks of the East Asiatic Company, on Chao Phraya River, featuring a large illuminated Ferris Wheel.
Ancient Siam. Located south of Bangkok, this large museum park in the shape of Thailand is featuring scaled-down replicas of famous Thailand landmarks.
Wat Chedi Luang. A Buddhist temple in the historic center of the city of Chiang Mai in the north of Thailand. Featuring a large pagoda on the grounds were originally were three temples.
James H W Thompson Foundation. A house museum in central Bangkok, showcasing the art collection of American architect Jim Thompson, the museum designer, and former owner.
Patpong. World-famous red-light district and Bangkok nightlife area. Bar-lined main street offering entertainment and night-market.
Lumphini Park. Central urban park in Bangkok featuring manicured lawns, playgrounds, and an artificial lake with boat rentals. Great for walks and morning joggings.
Wat Saket. Buddhist temple in Bangkok, situated atop an artificial hill, is known for its gold pagoda and city views.
Elephant Nature Park. A sanctuary and rescue center for elephants in, Chiang Mai Province, northern Thailand. There are volunteer opportunities, jungle tours, and rafting.
Tarutao National Park. National marine park with 51 islands and reef, founded in 1974 and covering an area of almost 1,500 sq. km in south of Thailand.
Ao Nang Beach. Small, but the busy beach in Krabi province, with many cafes, shops, and hotels.
Tiger Cave Temple. Located North of Krabi province, this Jungle temple is famous for gold Buddha status on top of an extensive flight of stairs and cave network.
Dream World. Located north of Bangkok, this amusement park offers rides, a roller coaster, a theater, and restaurants.
14. Interesting facts about Thailand
Here are some interesting facts about this amazing country:
Thailand was never colonized.
Thailand is the top exporter of orchids.
There are temples for monkeys in Thailand.
We hope you enjoyed reading about Thailand!
Safe travels!