Travel Attractions
Römer
Römer
Römer
Quick facts
Name: Römer
Location: Frankfurt, Germany
Type of attraction: Architectural
Built: 15th century
Ticket price: Free
Römer is former Patrician Villa has been serving as Frankfurt's city hall since 1405, featuring a three gabled Roof. This is the most recognizable attraction in Frankfurt. It is located opposite the Old St. Nicholas church, also one of the most important landmarks of the city.
Römer is actually the middle building of a set of three located in the Römerberg plaza. It once functioned as a trading hub and venue for Frankfurt's famous book fairs, and now usually used for weddings and official functions. The various rooms, which include a restored Kaisersaal (Emperor Hall), are not normally open to the public, but the building is worth a visit if only to snap a photo of the iconic three-peaked neo-Gothic facade.
The city's initial town hall was quickly too tiny to meet the demands of this growing metropolis. Prior to the start of building of the cathedral tower in 1415, it was demolished.
In 1329, the city council was granted the permission to construct a new town hall. In 1405, the council finally agreed to purchase two existing houses instead. Since then, these two homes, known as "Römer" and "Goldener Schwan," have housed Frankfurt's town hall.
On the ground floor, large halls were built and made available for rent during trade shows. Around 1612, the Kaisersaal, or "Emperor's Hall," was constructed. Previously, the town hall complex consisted of 13 structures.
There are as many theories as there are people when it comes to the name's origin. According to one of them, the merchant who lived there until the city bought the building did the majority of his business in Italy, specifically Rome.
Römer and Römerberg (public square in front of the building complex) are the main points of exploration of Frankfurt and great photo opportunity places.
Top hotels near Römer
Travel info about Frankfurt and Germany
Tours and trips including Römer
Interesting facts about Römer
Here are some interesting facts about this landmark:
Almost all buildings on the square were destroyed during WWII and later restored.
The Christmas Market tradition on the square is a tradition since 14th century.
The Fountain of Justice constructed in the 16th century, overlooking the Römer complex, supposedly flowed with wine during the many coronation ceremonies held in the square throughout the centuries.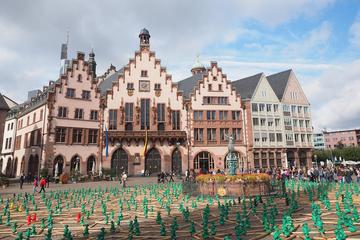 Safe travels!
[lmt-post-modified-info]