Neues Rathaus (New Town Hall)
Travel Attractions
Neues Rathaus (New Town Hall)
Neues Rathaus (New Town Hall)
Neues Rathaus (New Town Hall)
Quick facts
Name: Neues Rathaus (New Town Hall)
Location: Munich, Germany
Opened: 1874
Type of attraction: Architectural/Building
Ticket price: Free/Access to tower from $5
The Neues Rathaus ('New Town Hall') is a grandiose, neo-gothic government building that architecturally dominates the north side of Munich's Marienplatz. The nearly 100 meter (300 feet) long main facade on Marienplatz is richly ornamented in neo-gothic style and depicts the entire line of Wittelsbach's house of Bavaria.
The Glockenspiel in the Neues Rathaus tower balcony is also popular and an attraction on its own right. Since 1908, daily at 11:00 a.m., 12:00 p.m., and 5:00 p.m., figurines perform a play depicting stories from Munich's history. At the top of the city hall's 85-meter-high (255-foot) tower is an observation deck that can be accessed by an elevator and offers a splendid view of the city's roofs and panorama, and you can also see Alps on a clear day.
The Ratskeller, a popular Munich restaurant since 1867, is located in the generous and richly decorated cellar vault of the Neues Rathaus, another place worth visiting.
Top hotels near Neues Rathaus
Travel info about Munich and Germany
Tours and trips including Neues Rathaus
Interesting facts about Neues Rathaus
Here are some interesting facts about this impressive landmark:
Due to distinctive Neo-Gothic style, New Town Hall looks much older, although it was fully finished only on 1905.
The Glockenspiel mechanical play lasts for full 12 minutes!
The Glockenspiel and all the bells are solar powered.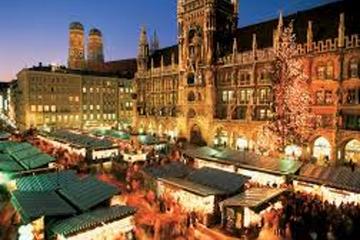 Safe travels!
[lmt-post-modified-info]