Travel Attractions
Marienplatz
Marienplatz
Marienplatz
Quick facts
Name: Marienplatz
Location: Munich, Germany
Built: 12th century
Type of attraction: Public square
Ticket price: Free
Since its foundation in 1158, Marienplatz has been the pedestrian center of Munich, and is the heart of the city.
On the north side of the square is the majestic Neo-Gothic Neues Rathaus ("New Town Hall"), the Altes Rathaus ("Old Town Hall") is on the east side together with the Tal and Viktualienmarkt (farmers ' market) passageways.
On the south side, there are shops, office buildings, and restaurants bordering the square. To the west the pedestrian zone opens into Kaufingerstraße, which ends at the Karlstor (gate) on the square known more commonly as Stachus by locals.
Today Marienplatz is a festivity hub and financial, cultural, or sporting events. The oldest traditional Christmas market in Munich (the "Christkindlmarkt") takes place here during Advent.
It is a central point to explore this wonderful city.
Top hotels near Marienplatz
Travel info about Munich and Germany
Tours and trips including Marienplatz
Interesting facts about Marienplatz
Here are few facts about this interesting landmark:
Marienplatz​ was founded by Henry the Lion, Duke of Bavaria.
Mariensäule column was erected as a gratitude to the Swedes for not destroying the city during the Thirty Years War.
The square gained international recognition during the 1972 Olympics when it was promoted as a pedestrian area.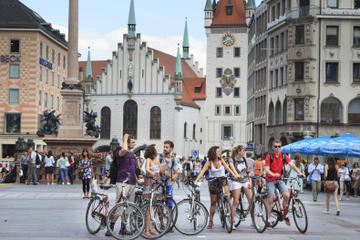 Safe travels!
[lmt-post-modified-info]