Iceland, quite a literary land of ice and fire, is located next to the arctic circle and is famous for its unreal landscapes. Massive glaciers are preserved in national parks and there are several very lively volcanoes with lava fields. Geysers and hot springs are so common that the capital, Reykjavik, is run on geothermal power and is world-known for its massive use of renewable energy.
National parks such as Vatnajökull and Snæfellsjökull, whose names are difficult to spell, let alone pronounce, are home to many natural wonders and breathtaking scenery. Glacier lakes and cascading waterfalls are very common and spectacular, together with northern lights, that is amazing natural phenomena from this part of the world.
Most of the attractions can be reached by following Golden Circle, a round route that can take you to the most popular places, while Route 1 (or 'Ring Road') goes around the entire island.
The history of the country since the first Viking settlers is preserved and showcased in National and Saga museums in the capital, where nightlife is also very vivid and diverse.
1. Quick facts
Official name: Republic of Iceland
Capital: Reykjavik
Population: 328,000
Area: 103,000 sq km (39,769 sq miles)
Major language: Icelandic
Major religion: Christianity
Life expectancy: 80 years (men), 84 years (women)
Currency: Krona
2. Where is it?
Iceland is located in Europe. It's an island northwest from the UK in the North Atlantic and on the border with the Arctic Circle. It's a relatively small country, it is ranked by size as 108th country in the world and 17th in Europe. It is also scarcely populated, on average, there are 3.35 persons in a square kilometer. Iceland doesn't share any land border with other countries.
3. Visa requirements
As with many countries, your passport must be valid for at least three months after you complete your visit to Iceland, so please plan ahead. Iceland is part of the Schengen agreement and a visa for any of the countries from the Schengen group is also valid for Iceland. A list of countries requiring visas can be found here.
For general details about visa requirements please click here.
For additional information about visa requirements for citizens of the US and Canada, please read important information from this page on Upgraded Points.
4. Getting there
Getting to Iceland is fastest via its main airports: Keflavik International Airport (KEF), Akureyri Airport (AYE) and Egilsstaðaflugvöllur (EGS).
Here are some ticket offers from the US:
Boston — Reykjavik from $185
Seattle — Reykjavik from $255
New York — Reykjavik from $400
Los Angeles — Reykjavik from $405
Chicago — Reykjavik from $422
5. Where to stay in Iceland?
Depending on where you want to go visit in Iceland, and what is your budget and preferences, your options for accommodation can go from standard hotels or Airbnb rentals, hostels, guesthouses, farm stays, and camping.
Click here for more info about lodging in Iceland.
For the latest offers on hotels from our providers use the search form below:
6. Moving around
Iceland has a network of bus lines, ferry routes, and domestic airports for traveling between cities/sites. This is in the case you are organizing your own trip. In that case, traveling around Iceland can be done easily by car rental so you can be independent in your travel.
In case you travel via organized tour, the operator will organize your transport around the country.
Within Reykjavik, you can easily reach attractions by walking or by renting a bicycle, or call a taxi (no Uber in Iceland yet).
More info about transport in Iceland can be found here.
To move between cities you can also rent a car, which you can do online from our website or from many car rentals.
7. Food in Iceland
Being an island nation, Iceland's cuisine is heavily fish and sea food-oriented, although there is also lamb meat in the equation. There is also whale and puffin meat on the menu, but this one is a bit controversial. We prefer whale and puffin watching (while they are alive) instead.
Here are some recommendations from Icelandic cuisine:
Harðfiskur (stockfish, dried fish), more of a snack and eaten straight from a bag or rolled in butter. Plokkfiskur (fish stew), this one is more traditional and exists in many variations elsewhere. Humar (Icelandic lobster), grilled baked, or fried.
Variations of bread exist, such as traditional flatkaka and rúgbrauð bread and more modern variations such as Snúður (cinnamon filled bread covered in chocolate or caramel, is this even bread?!), Pönnukökur (Icelandic pancakes) similar to crépe, covered with jam or cream and rolled, or Rúgbrauðsís (rye bread ice cream, you have to figure out this one yourself 😊).
Lamb meat comes in many variations – smoked, grilled, broiled, slow-cooked or shapes: Hangikjöt (a sandwich), thinly sliced meat, Kjötsúpa (meat soup with vegetables, perfect for wintertime), Pylsa (hot dog) made of the variety of meat, lamb, beef, pork.
There is also Skyr, a fermented dairy product that is more a cheese (brought by first settlers).
Some unusual dishes are: Hákarl (fermented shark) – must be fermented or it is poisonous (fun time!), Svið (boiled sheep head) – they say it tastes great if you are not freaked out of the sight and Hrútspungar (pickled ram testicles) – boiled and cured in whey – yummy! 😊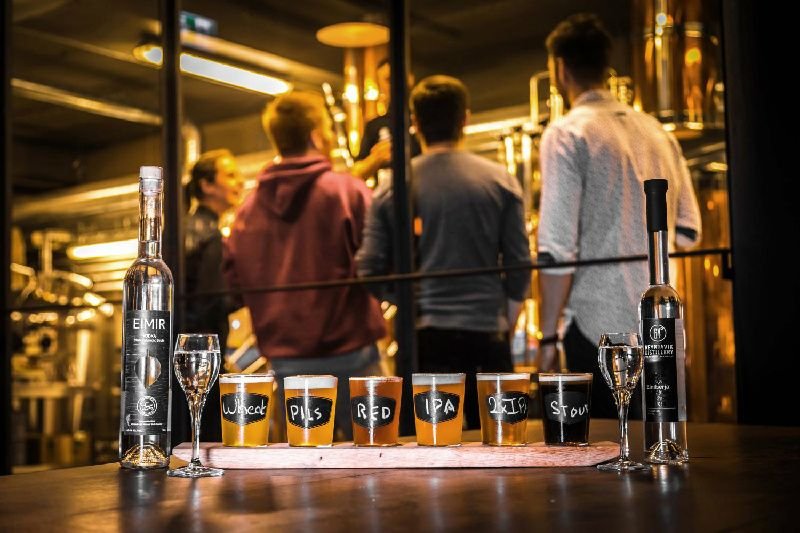 From the sweet side of the Icelandic menu, there is the ice cream – a lot of it and licorice – even more of it!
On the alcohol side, there is also plenty: Opal flavored vodka shots (licorice based, of course), Flóki Whiskey (genuine Icelandic whiskey), made of purely Icelandic ingredients (very patriotic), Brennivín (Black Death liquor, try it!), and variations of regular or craft beer.
Enjoy!
More info about food in Iceland.
8. Safety
How safe is Iceland for tourists and to move around? It is a very safe country overall. Tourist areas are generally safe, both for single tourists and groups or families. Most hazard comes from natural factors, such as glaciers, mountains, weather conditions or high waves at sea.
More details about safety in Iceland you can find here.
9. Prices
Iceland is not that costly for tourists, but some hotels and restaurants can be a bit pricey for most visitors.
You can always find great deals on accommodation, meals, and attraction tickets, but please plan ahead.
For detailed pricing information for various items, click here.
Prices throughout Iceland vary from place to place and Reykjavik is the most expensive city for general tourism.
10. Weather
Due to a position in the North Atlantic Ocean, and just next to the Arctic Circle, weather in Iceland is quite unpredictable and can be cold, but winter is not that harsh as you would expect at this geographic position. Spring and summer have temperature averages of up to 15 C (50 F) and autumn and winter are averaging around 3 C (28 F).
As there is frequent rain, appropriate clothes are advised to bring throughout the year.
More info about the weather in Iceland.
11. Best time to visit Iceland
Visiting the high season for Iceland is mid-June through August when most tourists arrive, but it is good to experience Iceland during winter, when northern lights are more vivid and there are plenty of celebrations, especially during Christmas. Prices are also lower during spring, fall, and wintertime. Visiting during winter, you might experience harsh weather, but if you are used to it, you will certainly enjoy it.
More tips on when to visit Iceland.
12. Money matters
The official currency is Krona (ISK) and the exchange to US Dollar is about $1=ISK122, which will make prices very exciting and confusing. That's why you should always pay attention when paying bills and mind the exchange rate. Major credit cards are accepted almost everywhere, but please do check card charges from your bank in foreign countries before the trip.
There are ATMs and banks on every corner and cash withdrawals are in local currency with a fee. Major banks don't charge ATM fees to foreigners, but privately-operated ATMs may sometimes charge high fees. However, the machine should warn you about the charge so you have a choice to cancel the transaction before committing to it.
More info about money, banks, and ATMs in Iceland.
13. What to see in Iceland?
We are listing here around the top fifty interesting attractions to see in Iceland and this is just a small sample of what you can see and do there.
Blue Lagoon. Geothermal spa with an outdoor lagoon, located southwest from Reykjavik. Popular with locals and tourists for its healing, warm, mineral-rich waters in a lava field.
Gullfoss. Famous waterfall with several cascaded sections. Located on the Hvitá River in southwest Iceland.
Golden Circle. Popular tourist route in southern Iceland, going in a circle of about 300 kilometers looping and starting from Reykjavík. The area along the route is famous for watching northern lights, geysers, glaciers, and waterfalls.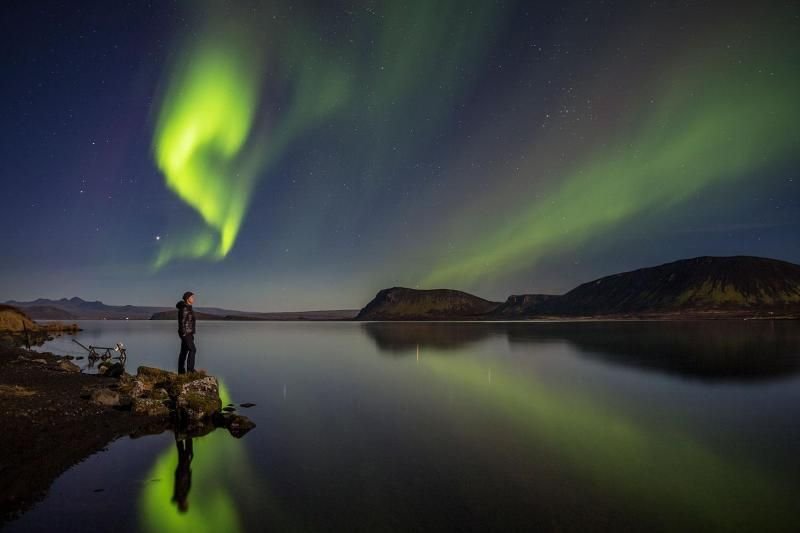 Þingvellir. (Thingvellir) Located northeast of Reykjavik, this volcanic national park with the stunning beauty of rocks, lakes, and ridges has also a national historical shrine.
Jökulsárlón. Large glacial lake on the southeast coast f Iceland. Featuring floating icebergs and wildlife sightings, such as seals and puffins.
Geysir. Active hot geysers with hot water eruptions, located southwest of Iceland, within the Golden Circle.
Skógafoss. Dramatic waterfall on a rocky cliff in southern Iceland on Skógá River. Over 60 m high, this waterfall is formed over cliffs of the former coastline of Iceland. Offering viewing platform for visitors.
Seljalandsfoss. Most famous and most visited waterfall in Iceland. Located in the South Region and next to Route 1, it is also easily accessible. Featuring a 60 m waterfall and can be observed in a full circle.
Mývatn. Volcanic lake in northern Iceland with a naturally heated manmade lagoon. A popular destination for wild bird watching, baths, and views of the Northern Lights.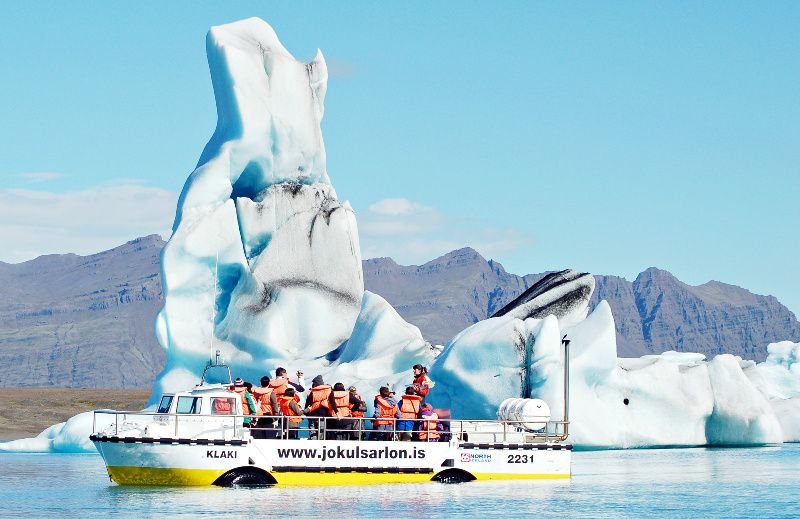 Hallgrímskirkja. Uniquely designed, a modern cathedral with a 73-meter high tower. Located in Reykjavik and named after Iceland's famous poet and clergyman, Hallgrímur Pétursson.
Skaftafell. National park with volcanoes, glaciers, viewpoints, and campsites. Popular for adventure hiking and wildlife viewing. Located in south Iceland.
Snæfellsnes. A peninsula north of Reykjavik in western Iceland. Host to Snæfellsjökull National Park with spectacular landscapes and Snæfellsjökull Volcano with a glacier on top.
Dettifoss. Located in Vatnajökull National Park in northern Iceland, this most powerful waterfall in Europe is on the river Jökulsá á Fjöllum. It's a 45 high and 100 m wide waterfall.
Landmannalaugar. A colorful landscape in the Fjallabak Nature Reserve in the south, featuring a mountain hut for camping. Popular with hikers.
Goðafoss. Dramatic waterfall, in north Iceland, in a semi-circular shape. It's 12 m high and 30 m wide, located on the Skjálfandafljót River.
Vatnajökull National Park. Massive wilderness national park around glacier area of about 14,000 sq km. Featuring wild hiking trails, 4 visitor centers, and camping grounds.
Dyrhólaey. A unique small peninsula is famous for scenic views, a lighthouse, and a naturally formed volcanic arch in the sea. Located on the south coast of Iceland.
Reynisdrangar. Interesting rock formations in the sea, under the mountain Reynisfjall near the village Vík í Mýrdal, in southern Iceland.
Snæfellsjökull. The volcanic peak in a Snæfellsjökull National Park on the Snæfellsnes peninsula.  Popular with climbers for the scenic views of the surroundings and the sea.
Svartifoss. Narrow falls on a wall of geometric rock formation cliff. Located in Vatnajökull National Park in the south.
Kerið. A scenic volcanic crater lake east of Reykjavik. Reachable by foot by hiking trail.
Perlan. Futuristic-looking complex featuring a planetarium, observation deck, and a restaurant with cocktail bar. Located in Reykjavik.
Harpa. A modern architectural marvel, hosting national opera and symphony orchestra. One of the main Reykjavik landmarks.
Eyjafjallajökull. One of the smaller ice caps of Iceland, north of Skógar and west of Mýrdalsjökull in southwest Iceland. Became world-famous in 2010 during the eruption that blocked air traffic in the area due to smoke and particles.
Thórsmörk. 'The valley of Thor'. Spectacular mountain range in the southwest of the country, featuring hiking trails, glaciers, and wildlife watching.
Laugavegur. World-famous long-distance trail in southern Iceland. It runs from the Landmannalaugar geothermal springs to the Thórsmörk nature reserve. It is 55 km in length and it takes several days to hike it.
Hraunfossar. Series of waterfalls, flowing into the Hvítá river over a lava rock base. Located northeast of Reykjavik and offering hiking trails and a viewing platform.
Krafla. A caldera of about 10 km in diameter with a 90 km long fissure zone, located in the north of Iceland in the Mývatn region. Has a history of many recorded eruptions, the last being in 1984.
The Sun Voyager. A large, stainless-steel built a sculpture of a boat by famous Jón Gunnar Árnason, located on the Sæbraut road in Reykjavík, next to the sea.
Hekla. A stratovolcano in the south of Iceland, with a peak at almost 1,500 m. One of the most active volcanoes in Iceland, called 'Gateway to Hell'.
Ásbyrgi. A unique, horseshoe-shaped depression and glacial canyon in the north of Iceland. Part of the Vatnajökull National Park, it is 3.5 km long and 1 km wide.
Askja. Huge volcanic crater in central highlands of Iceland. Famous not only for many eruptions in the past but as a training ground for Apollo astronauts due to moon-like landscapes.
Fjaðrárgljúfur. Ancient, 2 million years old, and massive river canyon. River Fjaðrá runs through the canyon that is 100 m deep and 2 km long. Located in south Iceland.
Fjallsárlón. A glacial lagoon and a lake, located on the southern end of the Vatnajökull glacier. Offering boat rides and wildlife spotting activities.
Dynjandi. Name meaning 'Thunderous', this is a series of waterfalls in the Westfjords in northwest Iceland. Popular with tourists and mature photographers for stunning scenery.
Hverfjall. A tephra cone or tuff ring volcano in northern Iceland, approximately one kilometer in diameter. Walking paths are available to the top of the crater.
Barnafossar. Cascaded waterfalls falling over lava rock in a colorful environment. Located north of Reykjavik and suitable for day tours.
Laugavegur. The main street in downtown Reykjavík, and one of the oldest shopping areas. The name means "wash road" since it used to lead to the hot springs in Laugardalur where women were washing clothes.
Icelandic Phallological Museum. This is the only museum in the world of this kind – displaying mammalian phallic specimens. There are more than 200 mammalian penises from animals from Iceland. Located in Reykjavik.
Grímsey. A small island, 40 kilometers off the north coast of Iceland, few kilometers in length, and less than 100 inhabitants. Reachable by local flights and ferry lines and famous for puffin watching opportunity.
Tjörnin. Small urban lake next to the City Hall in Reykjavik. Surrounded by walking paths and hosts ducks, geese, and swans.
Katla. One of Iceland's most active volcanoes, located underneath Iceland's fourth largest ice cap, is Mýrdalsjökull in the south. Very difficult terrain to reach it, so most tours are via helicopter.
Öxarárfoss. A waterfall is located within Þingvellir National Park in southwest Iceland, east of Reykjavik. It is 13 m high and 6 m wide in a scenic setting of a basalt rock cliff.
Laugarvatn. Small, shallow lake and small place with the same name. There is a geothermal spring beneath the surface that makes it a year-round swimming spot. Located east of Reykjavik.
Selfoss. A scenic waterfall on the river Jökulsá á Fjöllum in the north of Iceland. The river drops flow over several waterfalls through a 30 km path, before flowing into Öxarfjörður bay.
Hverir. Geothermal area in northern Iceland, with many smoking fumaroles and boiling mud pots, surrounded by sulfur crystals in different colors.
National Museum of Iceland. Museum tracing Iceland's history and culture from settlement times until the present day. Located in Reykjavik.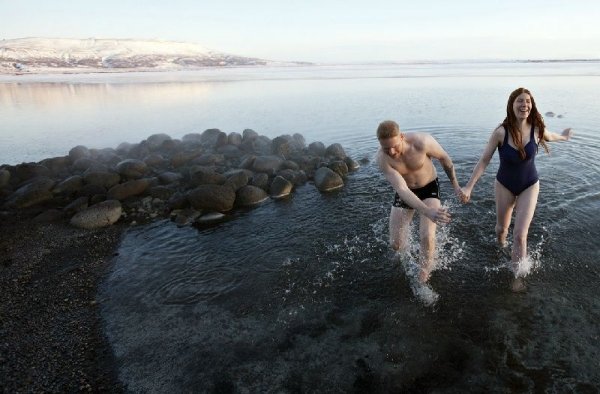 14. Interesting facts about Iceland
There are no mosquitoes in Iceland. Due to the climate, mosquitoes never made it or survived in Iceland.
Also, there is no McDonald's in Iceland.
The country was once covered by trees, which were cut down by Vikings.
More interesting facts about Iceland.
We hope you enjoyed reading about Iceland!
Safe travels!