Travel Attractions
Perlan
Perlan
Perlan
Quick facts
Name: Perlan
Location: Reykjavik, Iceland
Opened: 1991
Type of attraction: Architectural/Museum/Exhibition
Ticket price: From $25, depending on the attarction
Perlan ('pearl') is one of the most recognizable landmark in Reykjavík, Iceland. It is situated at the top of hill Öskjuhlíð. What was originally a set of hot water tanks was turned into a publicly accessible building in 1991. It features an exhibition, a planetarium, an observation deck, and a restaurant.
The building was originally designed by the architect Ingimundur Sveinsson in 1991; the hot water storage tanks that had been above Öskjuhlíð since the mid-20th century were updated with the hemispheric glass dome that was added on the top.
The project was primarily initiated and overseen by Reykjavík's mayor  Davíð Oddsson.
At night, floodlights light up the water tanks that illuminate the construction and it is visible from the city. There is a revolving light on top of the dome that helps to signal airplanes flying to and from nearby Reykjavík Domestic Airport.
The Glacier Exhibition of Iceland opened in in 2017. The project features a 100-metre long ice tunnel, where visitors can observe the past, present and future of the Iceland's glaciers. It is the only museum in the world of this kind and very well worth visiting.
Top hotels near Perlan
Travel info about Reykjavik and Iceland
Tours and trips including Perlan
Interesting facts about Perlan
Here are some interesting facts about this amazing landmark:
The water tanks still hold geothermal water used for city heating.
The restaurant gives 360 degree view of Reykjavik and surroundings.
Each of six tanks can keep up to four million liters of hot water, with the volume of 4000 cubic meters.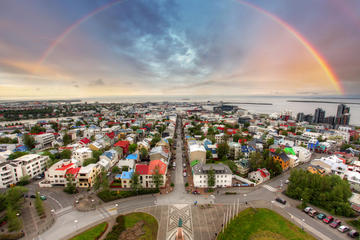 Safe travels!
[lmt-post-modified-info]