Travel Attractions
Fraumünster Church
Fraumünster Church
Quick facts
Name: Fraumünster Church
Location: Zürich, Switzerland
Built From 1100 to 1220
Type of attraction: Architectural/Church
Ticket price: $US 5
Founded by King Louis the German in 9th century, Fraumünster Church was originally a convent, inhabited by the female members of Europe's aristocracy. Until well into the 13th century, the convent enjoyed the patronage of kings and the abbess with the right to mint coins in Zurich. After the Reformation the church and convent ownership passed to the city of Zurich.
Significant architectural features include the Romanesque chancel and the transept which is heavily vaulted. The nave was last refurbished in 1911.
Its most stunning features are the stained glass windows: those in the north transept are the works of Augusto Giacometti, while Marc Chagall did the five-part cycle in the chancel and rosette in the south transept. The cloister also contains a collection of Paul Bodmer frescoes.
The name Fraumünster is often translated and understood as Our Lady, while the actual meaning is Women's Minster.
This is among top five attractions in Zurich and a must visit when traveling to Switzerland. Its coper covered spire that turned green through time is recognizable part of Zurich's skyline.
Top hotels near Fraumünster Church
Travel info about Zürich and Switzerland
Tours and trips including Fraumünster Church
Interesting facts about Fraumünster Church
Here are some interesting facts about this popular landmark in Zurich:
Legend has it that a stag with burning antlers led daughters of King Louis to show where the church will be built. 
Celtic and Roman structures existed on the site of the church before it was built.
The church organ with 5,793 pipes is the largest in the Canton of Zürich.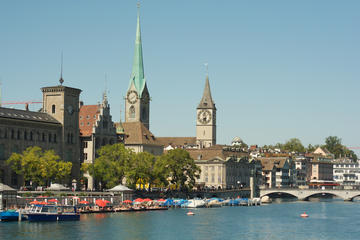 Safe travels!
[lmt-post-modified-info]