Travel Attractions
Englischer Garten
Englischer Garten
Englischer Garten
Quick facts
Name: Englischer Garten
Location: Munich, Germany
Opened: 1789
Type of attraction: Public park/garden
Ticket price: Free
Englischen Garten ('English Garden') in Munich, Germany, is one of the world's largest urban parks. Throughout the years the architecture has experienced constant change as new buildings and green spaces have been built and added regularly.
It's construction started in 1789 when Elector Carl Theodor ordered the development of a public park along the Isar River. The project was assigned to Briton Benjamin Thompson who was working for the Bavarian Army at the time. The park was called Englische Garten, because it was laid out in an English country park manner, very popular in 18th and 19th century.
The Englische Garten today offers many leisure time activities. Cyclists and joggers can use the 78-kilometer (48.5-mile) network of trails, and amateur soccer players meet for recreational games in the fields. A beautiful view of the town is provided by the Monopteros, added in 1836 to the park landscape along with the hill. The Japanese teahouse first opened on an artificial island in the Schwabinger Bach (stream) at the south end of the park in 1972. Japanese Tea ceremonies are regularly held here.
Beautiful squares, buildings, and the old town skyline may be viewed from the garden.
From monopteros, this is arguably the nicest view: The temple-like circular edifice, which included a hill in the southern parkland, was erected in 1836. The panoramic view of Munich is breathtaking – simply sit back and relax!
The Chinese Tower is perhaps the most well-known structure in the English Garden. The Imperial Chinese style pagoda building rises 25 meters and is based on a design from 1789.
The tower has burned down multiple times, but each time it has been rebuilt to its original specifications. A Biedermeier-style children's carousel with carriages, wagons, sledges, and 20 carved wooden animals is located right next door.
It took until 1972 to construct the Japanese tea house. It stands on an artificial island in the Schwabinger Bach at the park's southern edge. Fans of Japan gather there on a regular basis for a Japanese tea ceremony.
The Rumfordschlössl, a classical edifice from 1791, is located behind the Chinese tower. It is now used as a meeting area for young people interested in nature and culture.
The park is great escape from the city dynamic life for both locals and tourists alike.
Top hotels near Englischer Garten
Travel info about Munich and Germany
Tours and trips including Englischer Garten
Interesting facts about Englischer Garten
Here are some interesting facts about this amazing green area in Munich:
The park has 9 kilometres (5.6 miles) of streams and over 100 bridges.
The park has Chinese Tower, Munich's second largest tower, standing at 25 metres (82 feet) high.
There is a nudist area, Schönfeldwiese ('Schönfeld meadow;), one of the six designated nudist places in Munich.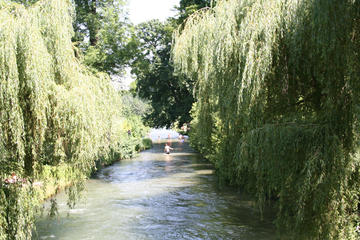 Safe travels!
[lmt-post-modified-info]