Quick facts about Munich
Name: Munich, München
Founded: 1158
Population: 1.5 million
Area: 310.4 km²
Known as: Capital of Germany State Bavaria
Munich is the capital of Bavaria, a federal state of Germany, located in the country's south. Within the city limits, Munich has a population of over 1.5 million, making it Germany's third-most populous city.
Greater Munich has a population of 2.7 million people including suburbs. Located on Southern Bavaria's river Isar, it is renowned for its beautiful architecture, fine arts, history, and world-famous annual Oktoberfest beer festival.
Munich has a thriving cultural scene and its beautiful architecture is enjoyed by millions of travelers every year. Although it was severely damaged during World War II by Allied bombing, many of its historic buildings have been restored, including its largest church, the Frauenkirche cathedral, and the famous City Hall.
It draws significant visitors with its various architectural attractions, sporting events, aquariums, festivals, and, of course, the Oktoberfest.
Read more: Germany country spotlight
Main attractions in Munich
There are many attractions in Munich, both inside the city and in immediate surroundings. We are listing here only the top 20-25 of them.
Marienplatz. A central square in the center of Munich. It has been the city's main square since the 12th century. It was named after the Mariensäule, a Marian column erected in its center in 1638 to commemorate the end of Swedish occupation. English Garden. Locally called Englischer Garten is a large public park in the center of Munich, stretching from the city center to the northeastern city limits. It was created in the 18th century by Sir Benjamin Thompson, for Prince Charles Theodore, Elector of Bavaria.
Nymphenburg Palace. A Baroque palace situated in Munich's western district Neuhausen-Nymphenburg. Together with the adjacent Nymphenburg Palace Park, it constitutes one of the premier royal palaces of Europe. With Its frontal width of 632 m, it is even larger than Versailles Palace in France.
Munich Residenz. The former royal palace of the Wittelsbach monarchs of Bavaria. It is the largest city palace in Germany and is today open to visitors to observe its architecture, room decorations, and displays from the former royal collections. Hofbräuhaus München. A beer hall in Munich, originally built in the 16th century by Bavarian Duke Maximilian I as an extension of the Staatliches Hofbräuhaus in München brewery.
The general public was admitted in 1828 by Ludwig I. New Town Hall. A town hall at the northern part of Marienplatz in Munich. It hosts the city government together with the city council, offices of the mayors, and a part of the administration.
Frauenkirche. A Gothic church with iconic domed towers, in Munich. It serves as the cathedral of the Archdiocese of Munich and Freising and the seat of the Archbishop. It is one of the Munich landmarks and is considered a symbol of Munich. Olympiapark. An Olympic Park was constructed for the 1972 Summer Olympics.
Located in the Oberwiesenfeld neighborhood of Munich. It serves now as a venue for cultural, social, and religious events, such as worship. Victuals Market. A daily food market and a square in the center of Munich. The market grew from an original farmers' market to a popular market for gourmets. The area covering 22,000 m², 140 stalls, and shops offers flowers, exotic fruit, game, poultry, spices, cheese, fish, juices, and other items.
Deutsches Museum. The world's largest museum of science and technology, with 28,000 exhibited objects from 50 fields of science and technology. It has about 1.5 million visitors per year. BMW Welt. Famous car manufacturer's showcase building with exhibitions, museum, and event venue, located next to the Olympic Park.
St. Peter's Church. A Roman Catholic parish church in the city center of Munich. With Its 91-meter tall tower, commonly known as "Alter Peter"—Old Peter is the most recognizable landmark of Munich.

Old Town Hall. Hosted municipality until 1874, today used for representative purposes for the city council in Munich. Located in the central square Marienplatz on its east side. Rathaus-Glockenspiel. A huge mechanical clock on Marienplatz. With 43 bells and 32 life-sized figures perform daily show, reenacting two scenes from Munich's history. Allianz Arena. A football stadium, home of FC Bayern Munich with a 75,000 seating capacity. It is the first stadium in the world with a full color changing exterior. A must for every football lover.
Neuschwanstein Castle. One of the most visited castles in Germany and one of the most popular tourist destinations in Europe. Built in 19th century by King Ludwig II of Bavaria, known as the "Fairytale King". Odeonsplatz. A beautiful square in central Munich bordered by the Italianesque Feldherrnhalle, Theatinerkirche and Hofgarten, a former court garden. Karlsplatz. Historical square in central Munich, with a fountain. Popularly called Stachus by local residents after the nearby tavern. Official name is rarely used.
Hellabrunn Zoo. Large Zoo in the south Munich with nature reserve style enclosures for wild animals. A home to more than 750 exotic and indigenous species. Hofgarten. A 17th-century Italian Renaissance gardens, formerly the court garden of the Residenz. Surrounded by impressive arcade-style passages. Dachau Concentration Camp Memorial Site. This was the first of its kind opened in Germany by Adolf Hitler's Nazi government in 1933, and it served as a model for later concentration camps. Now it serves as a memorial to the more than 32,000 people killed and more than 200,000 imprisoned during the Nazi regime.
From other attractions in Munich we recommend: Englischer Garten, Königsplatz, St. Michael's Church, Glyptothek, Feldherrnhalle, Bavarian State Opera and Maximilianstraße.
Top things to do in Munich
Munich has many attractions to visit and many things to do, so going to this great city should last for several days at least in order to experience most of it.
Apart from visiting city attractions, it is also recommended to go for half day or full day excursions outside of Munich and visit Neuschwanstein and Linderhof Castle, Nuremberg, Herrenchiemsee, King's Lake and Berchtesgaden Salt Mine.
This will give you some additional insight into Germany attractions, history and culture.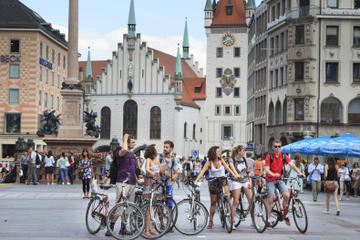 Read more: Tours from and within Munich
Festivals and events in Munich
Munich is very dynamic city and there are events and festivals happening all year around. The city is regional hub for many cultural activities throughout the year and Oktoberfest is world known event that inspired similar festivals around the world. Here are some major festivals and events in Munich.
Auer Dult, a fair, held three times a year – April-May, July-August and October; Christmas Market – November-December; Kaltenberger Ritterturnier, medieval festival, July; Fasching, carnival, November; Open Air Kino, July; Blade Night, cycling and rollerblading, Mondays during the summer and many more.
Read more: Festivals and events in Munich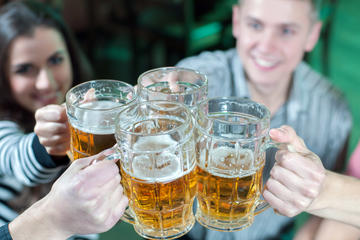 Interesting facts about Munich
Here are some interesting facts about this amazing city:
Munich beer factory Augustiner is the oldest in the world. It was founded in 1328.
There are almost 70 museums in the city.
Munich doesn't have skyscrapers like other world metropolises – the construction of buildings above 99 meters is prohibited in the city.

Read more: More interesting facts about Munich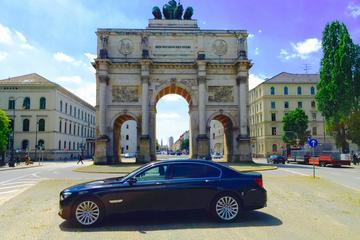 Best time for flights to Munich
The peak season for flights to Munich is June, August and December. The low season for purchasing tickets is January, February and November.
Munich is served by these airports: Augsburg Airport (AGB) and Franz Josef Strauss Airport (MUC).  Direct flights to Munich are offered by 57 airlines.
Top hotel offers in Munich
These are current top hotel offers in Munich. The list is updated automatically when page is refreshed.