The United States is a huge country comprising of 50 states in North America, bordering Canada in the north and Mexico in the south. It's an amazingly diverse country (expression 'melting pot' came from the US) that attracts millions of tourists every year and it tops world tourism rankings for decades. And this is not an accident, there is so much to see and do in the US that this post will not do it justice. That's why we will try and write about various destinations within the US during the next couple of weeks.
There is something for every type of traveler: from the wilderness in Alaska, through Hawaii active volcanoes, and dozens of national parks with breathtaking landscapes and wildlife, to coastal cities with buzzing nightlife, long beaches, and themed parks, and to inland places with rich history and cultural heritage.
To name just a few of notable destinations: New York City, Washington DC, Chicago, Los Angeles, Seattle, San Francisco, New Orleans, Boston, Orlando, Portland, Huston, all urban cities with so much to offer. For outdoors lovers, there is an exciting list of National parks: Yellowstone, Yosemite, Grand Canyon, Rocky Mountains, Arches, Sequoia, Zion, Arches, Death Valley, and the list goes on.
If you are traveling with children, there are also plenty of themed parks for them to enjoy: Legoland, Disneyland, Sesame Place, Hersheypark, Story Land, and many more, which makes it easy to entertain even the pickiest youngsters.
When it comes to food, the US offers a variety of flavors, from hamburgers and pizza, barbecue and tex-mex to seafood and many ethnic cuisines from around the world. Enjoy!
1. Quick facts
Official name: United States of America
Capital: Washington, D.C.
Population: 326 million
Area: 3,796,742 sq mi (9,833,520 km2)
Major language: English
Major religion: Christianity
Life expectancy: 76 years (men), 81 years (women)
Currency: US Dollar
2. Where is it?
The US is a country in North America, sharing a land border with Cuba (via its military base in Guantanamo Bay), Canada, and Mexico.
The US is a very large country, it is the third country in the world by area, behind Russia and Canada.

3. Visa requirements
As with many countries, your passport must be valid for at least three months after you complete your visit to the USA, so please plan ahead. Most of the world countries require a visa for a tourist visit to the US, and there is a number of countries that have a Visa Waiver Program (VWP) agreement with the US. Citizens of these countries still have to apply online via ESTA (Electronic System for Travel Authorization) to be authorized to enter the country.
Further information about visas and passports for the US:
U.S. Passport Service Guide
Quick passport and visa expediting information. Reviews of travel document expediters. U.S. passport application instructions and form downloads. Popular travel destination guides.
4. Getting there
Getting to the US can be done via dozens of international airports, such as New York (JFK), Los Angeles (LAX), Washington DC (IAD), Las Vegas (LAS), Chicago (ORD), to name just a few. You can also travel from Canada or Mexico if you are traveling from there, both via air or by car or a bus.
If you are adventurous, you can reach the US from Europe by ship, such as Queen Mary 2, traveling from England, and it takes six to seven days.
Check flights and hotel offers for the United States:
5. Where to stay in the US?
The US is very diverse in what is offered for accommodation, whether it is a hotel, motel, Airbnb, or high-end lodging. Everything depends on two factors: where exactly in the US you will be traveling (remember, there are 50 states, each on the size of the average country) and what is your lodging preference, including your budget.
Here are some unusual recommendations for lodging in the US, including circus, wigwam, caravan, and underwater room:
There is a still cheap option of hostels throughout the USA, check it out here, suitable for budget (and young) travelers.
For the latest offers on hotels from our providers use the search form below:
6. Moving around
Moving around the US is equivalent to moving around entire Europe, due to the size. Air travel would be the preferred way of travel between cities and states, due to distance and basically quite cheap air tickets. You can use buses for short and medium distances, which is good for sightseeing and it is relatively cheaper. Trains are not that cheap in comparison with speed as the US doesn't have fast train services like in Europe or Japan.
For inner-city transport, you can use commuter trains or underground if available, taxi service or any online transport service such as Uber or Lyft.
If you prefer to drive, you can rent a car and explore state by state (or city to city), but due to distances driving could be a tiresome activity for longer trips.
7. Food in the US
Due to globalization, most American brands are available worldwide, including food, but it is worth tasting it from the original source. Each US state has its own cuisine and flavors and there is a truly diverse offering.
The melting pot of cultures is reflected in local dishes, so you have New York pizza, with specific toppings and base, slightly different from its origins in Italy, barbecue comes with different sauces, depending on a state, steaks have different flavors and recipes (but sizes are mainly large) seafood styles are different from coast to coast and ethnic foods have unique, American characteristics.
You shouldn't miss bagels in New York, Texas barbecue, New York pizza, Tex-Mex in Texas, spicy New Orleans food, fish in Seattle. And don't forget to match all this food with California wine and local beer.
And to end up on a sweet note: chocolate chip cookies, brownies, cupcakes, cheesecakes, and apple pies are all available to complete your meal.
8. Safety
How safe is the US for tourists and to move around? As this is a very diverse country with 50 distinctive states, safety level varies from place to place and also with major cities and tourist destinations. In general terms, the US is quite safe for tourists, but attention needs to be paid to petty crime, aggressive homeless people, dangerous traffic, or natural hazards (hurricanes and tornadoes, mostly). Pickpocketing is also something to pay attention to around famous tourist landmarks.
9. Prices
Since it is a very diverse country, the prices and cost of your trip largely depend on where you will be traveling in the US. Also, it depends on which attractions you will be visiting as Theme parks can be costly, especially for families.
Prices throughout the US are almost the same for common items, with slight variation, but major cities, such as New York, Los Angeles, San Francisco or Washington DC are the most expensive for general tourism.
10. Weather
The weather in the US varies from state to state, and it is (understandably) different between north and south and between coastal and inland areas.
The lowest temperatures are in January and they go below zero, especially in Alaska. North Dakota is one of the coldest states during winter. More you move to the south, temperatures rise and the climate is more moderate and more four-season-like.
Summers can be hot in the southern states, especially in Florida, with temperatures going well above 30 C (80 F).
Tourists should be aware of severe weather conditions in the USA, where hurricane season on the Pacific coast runs from May to November, with a peak between August and October, and tornado season on the east coast peaking from March through June.
11. Best time to visit the United States
As weather varies from location to location and there is always a possibility for bad weather throughout the US, general advice would be to visit between late spring and early fall for most of the locations.
If you are looking for the best time to visit a specific state/city/national park/themed park, this will depend on the time of the year and if it is high or low season, and if the weather is nice for visit.
12. Money matters
The US is using the dollar as a currency and visitors from non-US dollar countries should take note of the exchange rate. Major credit cards are accepted almost everywhere, but please do check card charges from your bank in foreign countries before the trip. It is always good to have some cash on you, especially when leaving a tip in the restaurant or for a taxi ride.
There are ATMs and banks on every corner and cash withdrawals are in US dollars with a fee. Major banks don't charge ATM fees to foreigners, but privately operated ATMs may sometimes charge high fees. However, the machine should warn you about the charge so you have a choice to cancel the transaction before committing to it.
List of major banks in the US: JP Morgan Chase Bank, Bank of America, Citi (or Citigroup), Wells Fargo, PNC, Capital One. Major international banks with operations in the US: HSBC, TD Bank, RBC Bank, Santander Bank, Industrial and Commercial Bank of China, BNP Paribas, Mitsubishi Bank, Credit Agricole, Deutsche Bank. It might be useful to look for these banks' ATMs or services if you have an account with any of them.
13. What to see in the US?
The US is a massive country with so many attractions and places worth visiting, so we are just providing you with the selection of the top things we recommend.
Grand Canyon National Park. Located in Arizona, with Las Vegas, Nevada being the largest city in the area, this mile-deep geological landmark offers breathtaking views, hikes, rides, and rafting.
Statue of Liberty. A symbol of New York and the US in general, this iconic status is located in New York City Harbor on Liberty Island. Opened in 1886, it offers tours, museums, and panoramic city views.
Yellowstone National Park. With a massive size of almost 3,500 sq. miles, this wilderness and recreational park is located mostly in Wyoming, and parts in Montana and Idaho. Featuring canyons, alpine rivers, forests, hot springs, and geysers.
Disneyland. World-famous theme park located in Anaheim, California. Total of eight differently themed parks with rides, shows, and costumed characters.
Yosemite National Park. Located in the Sierra Nevada Mountains in California, this park is famous for giant sequoia trees, Tunnel View, a scenic viewpoint down the Yosemite Valley, hiking, camping, and rafting opportunities.
Central Park. New York's urban oasis is Manhattan, the most-visited city park in the US. Features pedestrian paths for walking and jogging, ballfields, a zoo, carousel, and boat rentals.
Golden Gate Bridge. The iconic suspension bridge spans over Golden Gate Strait, connecting San Francisco Bay and the Pacific Ocean. Opened for car, bike, and pedestrian traffic.
Walt Disney World. Famous theme parks complex in Orlando, Florida. Four theme parks with lodging, rides, attractions, and shops.
Zion National Park. Located in southwest Utah, this park is famous for Zion Canyon and offers scenic drive, hiking, camping, and mountain climbing.
Bryce Canyon National Park. Another famous national park is located in southwest Utah, next to Zion National park, famous for its natural amphitheater, scenic views of towering spires (hoodoos), hikes, and trails.
Glacier National Park. Located in Montana's Rocky Mountains, bordering Canada, this vast park offers breathtaking landscapes, diverse wildlife, and more than 700 miles of trails.
Grand Teton National Park. Located in Wyoming, this peaceful park with scenic views offers wildlife watching, hiking, rafting, and swimming.
Arches National Park. Another great park in Utah, adjacent to the Colorado River, is famous for more than 2000 naturally formed arches made of red sandstones. Offering scenic views, hiking, and camping.
Empire State Building. The iconic office tower, offering observatories and exhibits, is located in Manhattan, New York. Built in 1931, this art deco-style building is the fifth tallest structure in the US and 28th in the world, standing at 1,454 ft (443.2 m) height.
Las Vegas Strip. A 4.3 mile (6.8 km) stretch of South Las Vegas Boulevard in Las Vegas, lined up with hotel casinos restaurants, shops, and performance venues. A true symbol of Las Vegas.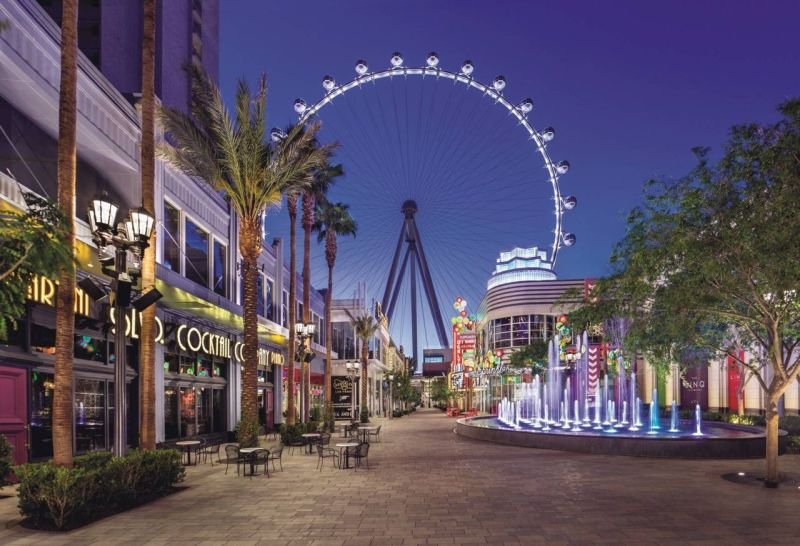 Fisherman's Wharf. San Francisco's northern waterfront neighborhood, one of the city's popular tourist areas. Packed with souvenir shops, stalls selling crab and clam chowder in sourdough bread bowls, offering spectacular views of the bay, Golden Gate and Alcatraz.
Antelope Canyon. A unique sandstone geological formation in a canyon, located in northern Arizona, close to the Utah border. Accessible by guided tour only.
Sequoia National Park. Located in Southern Sierra Nevada in California, this park features giant sequoia trees, hiking, and camping.
Universal Orlando. The second-largest resort after Disney Word, this theme park with movie-themed rides and attractions offers shows, hotels, and restaurants.
Lake Tahoe. A large freshwater lake in the Sierra Nevada Mountains between California and Nevada. Famous for water sports and nearby skiing opportunities and hikes.
Florida Keys. Coral islands archipelago off the southern tip of Florida. Famous for fishing, boating, snorkeling and scuba diving, and Key West.
Joshua Tree National Park. Vast area (more than 3,000 km2) in southern California, between the Colorado Desert and the Mojave Desert, characterized by rugged rock formation and bristled Joshua trees. Offers unique scenic views, camping, and hiking trails.
Universal Studios Hollywood. Massive movie studio and themed amusement park, located in the San Fernando Valley area north of Los Angeles. Featuring shows, rides, restaurants, and shops.
Redwood National and State Parks. The vast area alongside the northern California coastline, consisting of redwood forests, beaches, and grasslands. Offers diverse and unique wildlife spotting, camping, and hiking trails.
Grand Canyon Village. A place located on the South Rim of the Grand Canyon, in Arizona, dedicated to hosting tourists visiting the canyon.
South Beach. Miami's beach area, famous for nightlife, hotels, restaurants, and indie fashion shops.
Death Valley National Park. The vast area covers over 3.4 million acres of desert mountains, located in eastern California, on the border with Nevada. Ideal for hiking, camping, and biking.
Alcatraz Island. Former notorious prison, now historical museum, located in San Francisco bay, reachable by ferry.
Canyonlands National Park. Yet another park in Utah, located in its southwest, features spectacular desert landscape carved by the Colorado River. Famous for Native American rock paintings and white water rapids.
Times Square. The iconic intersection in Midtown Manhattan, known for bright lights and Broadway shows. Famous tourist selfie location when in New York.
Hawaiʻi Volcanoes National Park. Located on the Island of Hawaii (The Big Island), this park features two active volcanoes, featuring live lava flows, lava tubes, and glowing craters. Hiking and museum with exhibits are also offered.
Metropolitan Museum of Art. Also known simply as 'the Met', this world-class art collection is a third museum in the world by a number of visits per year. Features art collections from ancient to modern.
Rocky Mountain National Park. Massive scenic and rugged terrain spread out over 415 square miles, located in northern Colorado. Features a large network of hiking trails and diverse wildlife spotting.
Everglades. Massive wetlands National Park, located on the southern tip of Florida. Hundreds of species have homes there and it is excellent for wildlife spotting and photography.
Monument Valley. The area on the Arizona-Utah border with iconic red sandstone buttes is featured in many Western movies. Accessible via 17 miles looping Valley Drive.
Denali National Park and Preserve. Located in Alaska, this 6 million-acre park is the home of North America's highest peak – Denali. Diverse wildlife and scenic views are offered through organized tours.
Olympic National Park. Located in the state of Washington, on Olympic Peninsula in the Pacific Northwest, this park features very diverse ecosystems, from rain forests to rocky shores.
Brooklyn Bridge. An iconic bridge spanning the East River and connecting New York City and Brooklyn.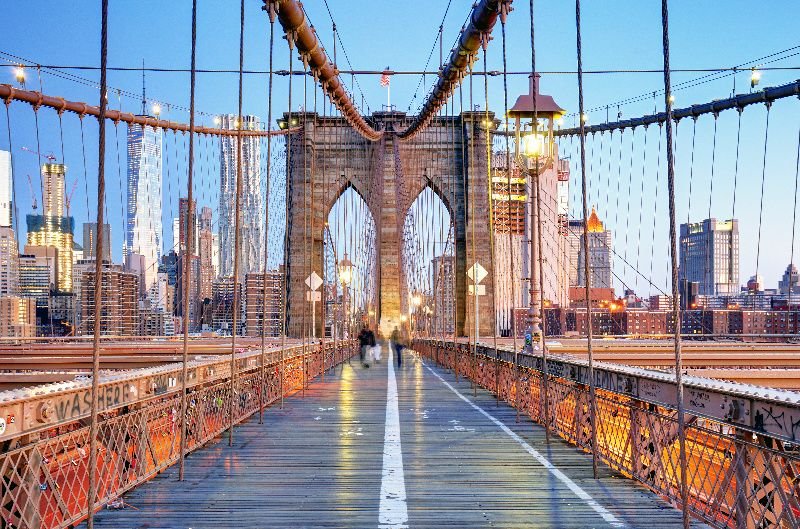 Hoover Dam. Dam on the Colorado River, built-in 1935, on the border between Nevada and Arizona. Scenic views from boat rides and helicopter tours are offered.
Lake Michigan. One of the five Great lakes, this one being entirely in the US. Home to Chicago, Milwaukee, and Green Bay.
Mount Rushmore National Memorial. Massive sculpture carved into a mountain, located in South Dakota. Features faces of four US presidents: George Washington, Thomas Jefferson, Theodore Roosevelt, and Abraham Lincoln.
Rockefeller Center. Large Midtown business complex in Manhattan, facing 5th Avenue. Famous for  TV studios, a seasonal ice rink, and a giant Christmas tree in December.
14. Interesting facts about the US
Here are some interesting facts about this amazing country:
The current flag was designed by a 17-year old as a school project in 1958.
Every day, the amount of pizza sold in the USA can cover 100 acres.
Americans are listed as top people to help a stranger – good to know when visiting.
We hope you enjoyed reading about the United States!
Safe travels!