New York City has close to 300 hotels in total, ranging from massive hotels with more than 1,000 rooms and suites, to smaller, boutique hotels. Here is a list of top five hotels in New York City with their descriptions and available offers.
Four Seasons Hotel New York
Location: Midtown East, New York City
Number of rooms: 190
Belongs to hotel chain: Four Seasons Hotels and Resorts
Great for: Solo travelers.
Price range: $1,000 and up for a night
Located in New York's Tribeca district, Four Seasons Hotel New York Downtown is 300 meters from One World Trade Center and 400 meters from Ground Zero. The on-site bar is open to guests. All rooms have a flat-screen TV. All rooms are equipped with private bathroom. Extras include bathrobes and toiletries free of charge.
This Four Seasons Hotel features a lap pool, spa and fitness center. Breakfast, lunch and dinner are served at the on-site restaurant Cut by Wolfgang Puck. There are also private and in-room dining options.
Four Seasons Hotel New York Downtown is 400 meters from the National September 11 Memorial & Museum, while Trinity Church is 600 meters from the property. LaGuardia Airport, 13 km from the property, is the nearest airport.
Location: Broadway, New York City
Number of rooms: 168
Belongs to hotel chain: Sydell Group
Great for: Couples or small groups.
Price range: $390 and up for a night
The NoMad Hotel is located 644 meters from the Empire State Building and Herald Square, featuring a French decor and free WiFi. Madison Square Park is located 161 meters from the property.
Each room has an atrium or New York City view. All rooms at The NoMad Hotel include a Mahogany work desk, iHome docking station and in-room safe. Turndown service is provided at night. Enjoy a fitness center workout or read the daily newspaper. Also available on request are laptops and iPads.
The subway station is 50 meters from the property and 483 meters from The Museum at FIT. It is 1.2 km from Times Square.
Location: Fifth Avenue, New York City
Number of rooms: 300
Belongs to hotel chain: Fairmont Hotels & Resorts
Great for: Solo travelers.
Price range: Starting from $700 for a night
Located next to Central Park and 5th Avenue, this internationally renowned Manhattan hotel is a step away from famous shops such as Bergdorf Goodman, Louis Vuitton, Chanel, and Saks Fifth Avenue.
The luxurious and spacious rooms at The Plaza offer the latest technology of in-room iPads and boast modern bathrooms with 24-karat gold platted fixtures and separate rain showers.
The Plaza Hotel offers world class restaurants and bars such as the elegant Champagne Bar, the famous Rose Club, the Plaza Food Hall with its gourmet international cuisine and The Palm Court which is one of New York City's finest destinations for Afternoon Tea.
The Plaza's amenities include The Plaza's world-class shops with exclusive boutiques and fine food shops, as well as health and wellness facilities including a Guerlain Spa, Warren-Tricomi Salon, and La Palestra gym.
Mandarin Oriental New York
Location: Upper West Side, New York City
Number of rooms: 250
Belongs to hotel chain: Mandarin Oriental
Great for: Solo travelers.
Price range: Starting from $900 for a night
A 2-minute walk from Central Park, this hotel is located at the top of Time Warner Center. Offering a 75-foot indoor pool, it offers rooms with Manhattan panoramic views.
There are floor-to-ceiling windows in every room at Mandarin Oriental, New York. The 55-inch flat-screen TV is available to guests. A minibar is included and every day there is a chocolate and a bottle of water.
A full-service spa with sauna and massage rooms is available at the Mandarin Oriental, New York. The spa features a Tea Lounge where before or after treatment guests can relax. The hotel also has a fitness centre on-site. Tourist information and ticket services can also be found in New York City.
Located on site, Restaurant Asiate serves contemporary cuisine and Manhattan's wall-to-wall views. Chef Grant Achatz's Aviary NYC bar provides guests with an interactive journey where inventive cocktails and small food dishes complement the experience. The Office NYC, a speakeasy-style bar adjacent to The Aviary NYC, offers traditionally inspired food and cocktails.
This hotel is a 10-minute walk from Fifth Avenue shopping and 350 meters from the Art and Design Museum. The Modern Art Museum is 1.1 kilometers away.
The Langham, New York, Fifth Avenue
Location: Fifth Avenue, New York City
Number of rooms: 240
Belongs to hotel chain: Langham Hospitality Group
Great for: Solo travelers.
Price range: Starting from $530 for a night
Offering rooms with iPod docking stations, this hotel is located in Midtown Manhattan, between Bryant Park and Empire State Building.
During turn-down, the rooms at Langham, New York, Fifth Avenue include an espresso maker and bottled water. All the rooms also have WiFi access. Guests staying in the suites have access to bottled water and sodas free of charge.
For convenience of guests, concierge services and a 24-hour front desk are provided. Free ironing services are also provided for up to 5 items upon arrival (only once per stay).
Guests can dine at Ai Fiori, The Langham, New York, Fifth Avenue's on-site Michelin-star restaurant. The restaurant serves contemporary Italian cuisine inspired by the Riviera of France and Italy. At Bar Fiori, you can enjoy drinks and small dishes.
The Empire State Building is 322 meters away from the Langham, New York, Fifth Avenue. The hotel is 805 meters from the Grand Central Station.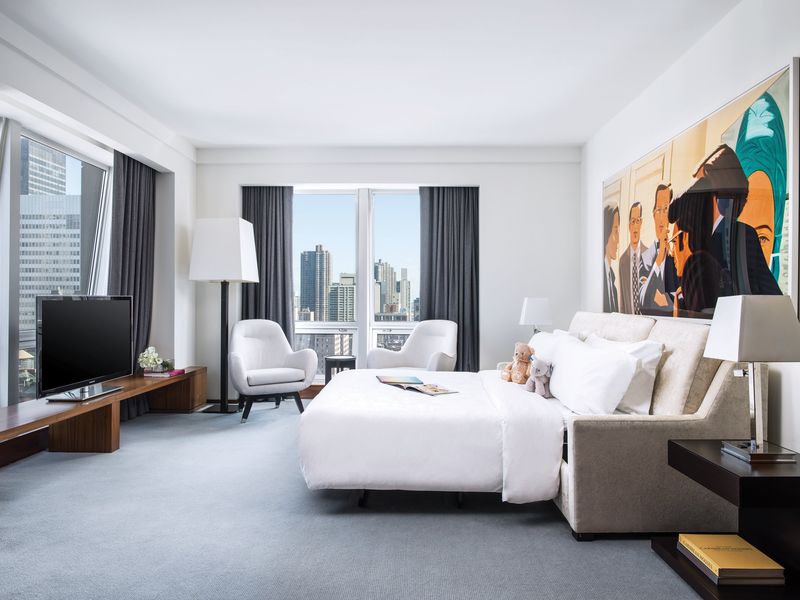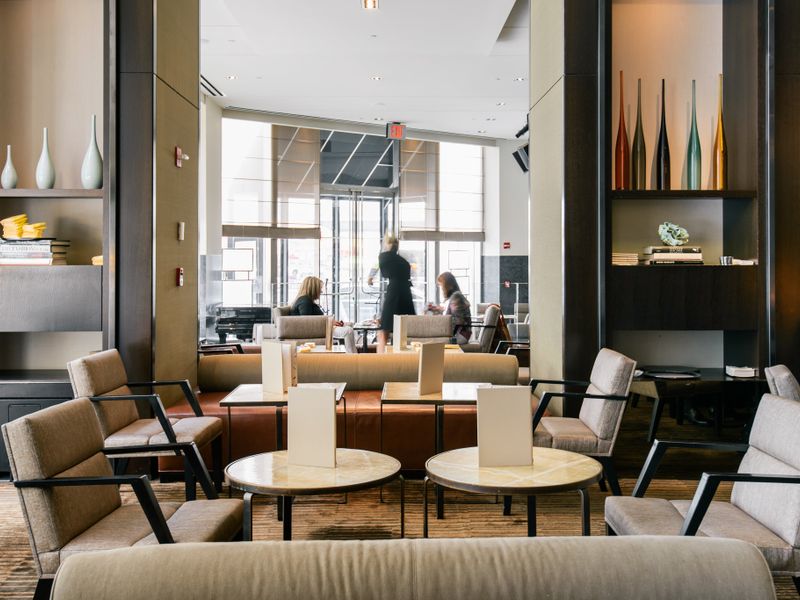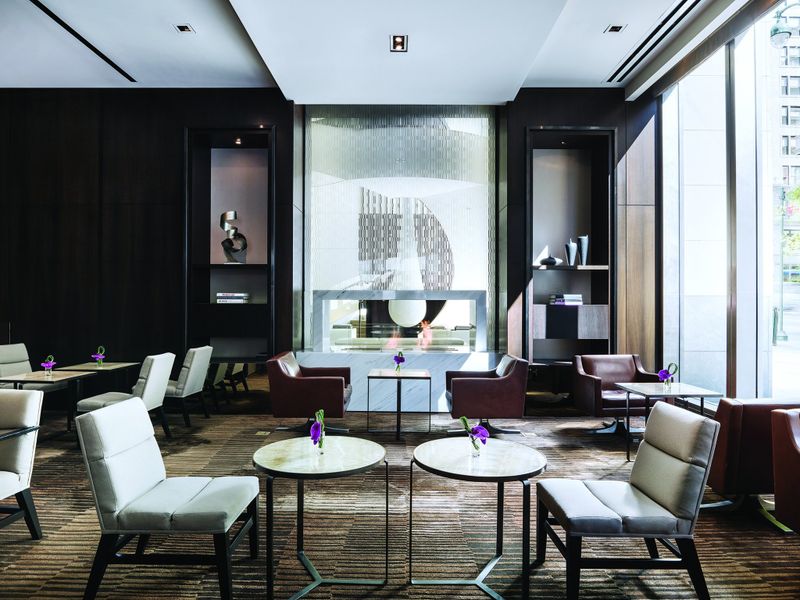 Top 5: hotels in New York City
Quick facts about New York City
​New York City is a global center of culture, art, fashion and finance and the most populous city in the US. The city is made out of five boroughs sitting on the Hudson River's entry into the Atlantic Ocean.​
Manhattan, with iconic skyscrapers such as the Empire State Building, its green core of Central Park and bustling Times Square and Broadway; Brooklyn, diverse borough with areas featuring indie music, art and nightlife and beachfront amusement parks; Queens with Flushing Meadows, featuring Unisphere; Bronx, in the north of NYC, hosts Botanical Gardens and Bronx Zoo; Staten Island in the south offers great panoramic views of a city and iconic Statue of Liberty.
NYC is a massive city and it will take a week or two to fully explore it or at least to visit all major landmarks. But don't worry, once you visit it, you will always come back for more!
Main attractions in New York City
Statue of Liberty. A symbol of New York and the US in general, this iconic statue is located in New York City Harbor on Liberty Island. Opened in 1886, it offers tours, museum and panoramic city views. Central Park. An urban oasis in Manhattan, most visited city park in the US. Features pedestrian paths for walking and jogging, ballfields, a zoo, carousel and boat rentals. Empire State Building. Iconic office tower, offering observatories and exhibits, located in Manhattan. Built in 1031, this art deco style building is the fifth tallest structure in the US and 28th in the world, standing at 1,454 ft (443.2 m) height.
Times Square. Iconic intersection in Midtown Manhattan, known for bright lights and Broadway shows. Famous tourist selfie location in New York. Metropolitan Museum of Art. Also known simply as 'the Met', this world class art collection is a third museum in the world by number of visits per year. Features art collections from ancient to modern. Brooklyn Bridge. Iconic bridge spanning East River and connecting New York City and Brooklyn.
Rockefeller Center. Large Midtown business complex in Manhattan, facing 5th Avenue. Famous for TV studios, seasonal ice rink and giant lit Christmas tree in December. Museum of Modern Art. Considered one of the largest and most important museum of this kind in the world, it hosts work ranging from Van Gogh to Warhol and more. Grand Central Terminal. World largest train terminal, located in Manhattan, features iconic architecture known from many famous movies.
Theatre District. In the heart of Manhattan, area of Broadway and Times Square, center of thatre plays and entertainment, plus dining and shopping. One World Trade Center. The tallest bulding in the US, built on the place of destroyed twin towers on 9/11 attack. Offering dining and drinks on the 101st floor with panoramic views. 9/11 Memorial. Plaza with pools and exhibits commemorating victims of 1993 and 2001 twin towers terrorist attacks. Free, time limited, admission available.
Chinatown. Popular neighborhood In Manhattan for Asian food, souvenirs and to enjoy practicing Tai Chi or simply watching locals performing it in Columbus Park. SoHo. Famous shopping and high end art galleries in Manhattan. Popular with tourists. Coney Island. Part of the Brooklyn neighborhood, this area is very popular during summer. Featuring an amusement park, boardwalk and beach with eateries and shops.
Top things to do in New York City
You should visit all mentioned attractions if you have enough time and budget allows it, and we recommend also several other sightseeing activities: helicopter tour – see all the main landmarks from above; Brooklyn Bridge bike tour – enjoy relaxing ride over the bridge with wonderful views; Boat cruise – enjoy city skyline from the waterfront; Foodie tour – enjoy genuine NY pizza in various locations; Harlem gospel or hip-hop tour – listen and learn about music from the neigborhoods and its roots; Hop-on/Hop-off NYC bus tour – ride around main attractions with audio guided tour.
Festivals and events in New York City
Three Kings Day Parade, Winter Jazzfest, New York Boat Show, New York Jewish Film Festival, Winter Antiques Show, NYC Restaurant Week (all in January), Westminster Dog Show (February), New York International Children's Film Festival, St. Patrick's Day Parade, Macy's Flower Show (March), Mets and Yankees Season Openers, Tribeca Film Festival, Earth Day/Week (April), Ninth Avenue International Food Festival, Bronx Week (May), Museum Mile Festival, Pride Week (June), Macy's Fourth of July Fireworks, Summer at Lincoln Center (July), Summer Streets (August), Commemorating 9/11 (September), New Yorker Festival, New York Comic Con (October), New York Comedy Festival, Macy's Thanksgiving Day Parade (November), Lighting of the World's Largest Hanukkah Menorahs, Rockefeller Center Tree Lighting, Times Square New Year's Eve (December)..
Interesting facts about New York City
Best time to fly to New York City
The peak season for flights to New York is May, June and December. The low season for purchasing tickets is January, February and November.
New York is served by these airports: LaGuardia Airport (LGA), Newark Liberty International Airport (EWR) and John F. Kennedy International Airport (JFK). Direct flights to New York are offered by 76 airlines.
Cheap Flights to
New York
| | | | |
| --- | --- | --- | --- |
| Origin | Departure date | Return date | Find Ticket |
| Charlotte | 06.02.2020 | 11.02.2020 | |
| Orlando | 03.03.2020 | 09.03.2020 | |
| Tampa | 07.02.2020 | 11.02.2020 | |
| Fort Myers | 28.01.2020 | 30.01.2020 | |
| New Orleans | 06.02.2020 | 10.02.2020 | |
| Fort Lauderdale | 04.02.2020 | 05.02.2020 | |
| Miami | 05.02.2020 | 11.02.2020 | |
| Atlanta | 29.01.2020 | 04.02.2020 | |
| Detroit | 04.03.2020 | 10.03.2020 | |
| Chicago | 15.02.2020 | 18.02.2020 | |