Kunsthistorisches Museum, Wien
48.2037395, 16.361781933366
Kunsthistorisches Museum, Wien
48.2037395, 16.361781933366
Walking distance from the city center or U3 (station Volkstheater) or Tram D to Burgring stop.
Kunsthistorisches Museum Wien (Art History Museum Vienna) was established in the late 19th century to house the impressive art collection of the Austro-Hungarian imperial family. Today, it is one of the most renowned art museums in the world. Its collections include paintings, ancient artifacts galleries, coins, vintage musical instruments, an armory, and more.
The museum was opened at the same time as Natural History Museum, as they are hosted in almost identical buildings facing each other on the Maria-Theresien-Platz. It was inaugurated by Emperor Franz Joseph I himself.
Quick facts
Name: Kunsthistorisches Museum Wien (Art History Museum Vienna)
Type: Art museum
Built/opened: 1891
Location: Maria-Theresien-Platz, 1010 Wien, 1st district, Innere Stadt (and several other locations)
How to get there: Walking distance from the city center or U3 (station Volkstheater) or Tram D to Burgring stop.
Ticket Price: Starting from $8 depending on the exhibition/museum site, children/teenagers under the age of 19 – free entrance. Yearly tickets for adults from $55
Opening hours: 7 days a week, 10:00 AM to 6:00 PM (Thursdays 10:00 AM to 9:00 PM)
Museum's painting gallery has notable works of European masters such as Raphael, Vermeer, Velazquez, Rubens, van Dyck, Rembrandt, Dürer, Titian, Tintoretto, and several more. The original gallery was established with works from 16th and 17th-century artworks of European masters.
Egyptian and Near Eastern collections is showcasing sculptures and artwork from ancient Egypt and the region in the impressive range of periods and diversity of artifacts. The original collection dates back to 1560.
Some 2500 objects on permanent display in the Greek and Roman Antiquities collection represent an ancient period of more than three millennia – Bronze Age ceramics of 3rd millennium BD Cyprus to the early Medieval era.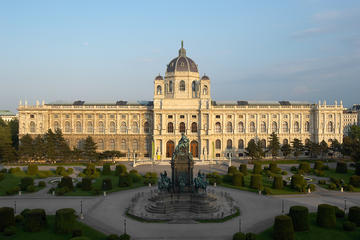 Kunstkammer Wien is the so-called 'museum within a museum' and is a curious collection of art and unique items collected by Habsburgs through centuries and set on display through 20 galleries.
Museum's Coin Collection is in the top five largest and most important coin collections in the world. Some 2,000 objects (out of almost 600,000) are on display in three halls gallery including coins, paper money, medallions, orders, and other items.
In the Historic Musical Instruments collection gallery, the museum hosts what is considered the most important collection of renaissance and baroque instruments globally. The Museum also safeguards, maintains, and showcases many instruments that were actually played (and owned) by famous musicians and composers.
Another impressive collection in the museum is the one of the Imperial Armoury. It is considered as one of the most diverse and well-documented collections in the world.
Kunsthistorisches Museum Wien has a total of seven sites/museums in its museum group (apart from the main museum building in Maria-Theresien-Platz):
Kaiserliche Schatzkammer Wien (Imperial Treasury Vienna), a large collection of imperial treasury items, such as crowns, jewels, gems, and insignias.
Kaiserliche Wagenburg Wien (Imperial Carriage Museum Vienna), hosts carriages and coaches used by the imperial court in Vienna, a total of 170 of them
Schloss Ambras Innsbruck (Ambras Castle Innsbruck), is a castle museum with paintings, armory, sculpture, and glass artwork collections.
Theseus Tempel Wien (Theseus Temple Vienna), a replica of the temple from Athens, set as a gallery, in Volksgarten.
Theatermuseum (Theater Museum) – interactive art museum and performance venue.
Weltmuseum Wien (World Museum Vienna) – a vast collection of artifacts from around the world.
Apart from Schloss Ambras Innsbruck, all museum sites listed are located in Vienna.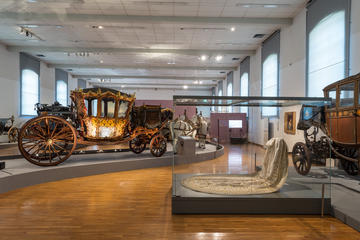 Museum provides a variety of guided tours, lectures and workshops, private tours and events, and accommodations for visitors with physical and mental disabilities. Portable audio guides are available in several languages and at very affordable prices.
It is also possible to rent parts of a museum for an exclusive business or private dinner or for a photo shoot, especially for weddings.
If you are planning to visit all museums in the complex, please allocate several days, especially if you want to visit Innsbruck Castle.
Each museum location has a shop where you can buy very interesting books, souvenirs, and novelty items inspired by museum art collections.
Safe travels and see you soon!